Posted on
Tue, Oct 23, 2012 : 5:55 a.m.
Title Boxing Club to open in November in Ann Arbor; soccer moms are target demographic
By Laura Blodgett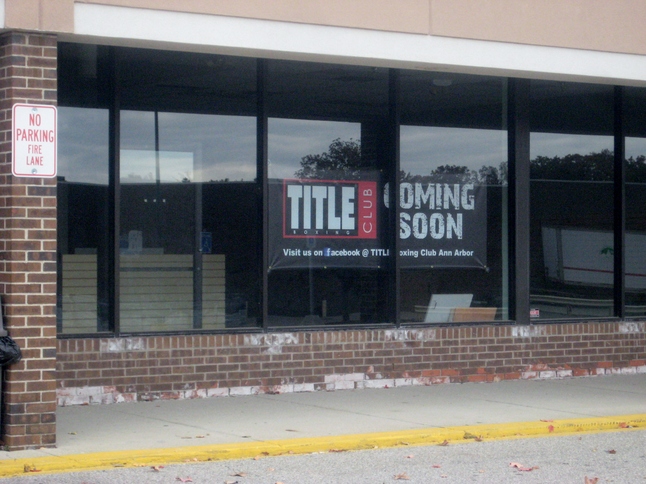 Laura Blodgett | AnnArbor.com
A new way to blow off steam is coming to Ann Arbor.
Title Boxing Club is opening next month on Stadium Boulevard next to Goldfish Swim School in the Boulevard Plaza shopping center.
Offering unlimited classes for a membership fee of $59 a month, the gym has adapted the classic boxing club concept for the masses.
The goal of the franchise, which was created by former pro boxer Danny Campbell, is "to take the sport and fitness of boxing from the bad part of town and open it by the Bed Bath and Beyonds and Joann Fabrics," said John Rotche, president of Title Boxing Club and owner of six of its franchises, including the Ann Arbor location.
No sparring is allowed in the gym, which focuses on teaching the conditioning part of boxing as a way to get and stay in shape.
In its popular Power Hour class, a 15-minute warm-up is followed by 30 minutes of punching on heavy bags broken down into eight rounds of three minutes in length. The last 15 minutes is nonstop core and abs exercised, according to James Lloyd, director of operations for the Michigan market.
"You can easily burn 800 to 1,000 calories an hour and that's what brings people in," said Lloyd, who adds that hitting a heavy bag provides resistance and toning to the arms as well. "It's a great fun workout. Music is playing the whole time, it's over before you know it, and you feel like you got the best workout you ever had."
This form of exercise can be good for relieving stress, too. "If you are stressed out, you go in and it's just a total release," said Lloyd.
The location on Stadium was selected to reach the gym's largely female clientele, since women make up 80 percent of the gym's nationwide membership.
"If you go by Goldfish Swim School and look at the parking lot, it's all soccer moms," Rotche said. "That ACE Hardware has the second largest sales of housewares locally outside of Williams Sonoma. That's our target audience."
With the clubs being membership-based, Rotche added, they do not have to be located on high-profile corners to pull people in.
"We're not looking for 2,000 members, we want 800 to 1,000 members," Rotche said. Rotche was a University of Michigan football player and coach in the mid-1980s before leaving to work as operations director for Domino's Pizza and later Krispy Kreme. He has bought and sold a few local companies, including an air duct company called Ducts and a commercial kitchen hood cleaning business called Hoods. Awarded Entrepreneur of the Year by the International Franchise Association this past February, Rotche was looking for a new opportunity when he was approached by Title Boxing Club founders Campbell and Tom Lyons about opening a Title Boxing Club franchise.
Campbell and Lyons had created a partnership with Title Boxing, the largest manufacturer of boxing equipment, to supply equipment to all the Title Boxing Clubs in exchange for the use of their name and logo.
Rotche decided to come on as an equal partner to run the company. An Ann Arbor resident, he opened an office on Main Street above Elmo's T-Shirts.
Title Boxing Club first opened in 2008 in Overland Park, Kansas, and now has 350 clubs.
In addition to opening the club in Ann Arbor, Rotche will open a location in Brighton, which is currently under construction. That will be followed by four more locations to open in 2013, in Grand Rapids, Lansing, Novi and Canton.
Another 15 locations have been sold throughout Michigan and are currently in lease negotiations.
Each gym is roughly 4,000 to 6,000 square feet in size and contains 60 to 70 heavy bags that hang in a grid system. Five to six classes are held each day.
The club will be hiring 17 to 20 people to staff the Ann Arbor and Brighton locations, mainly trainers, sales people and assistant general managers.
Company officials are very optimistic about opening in Ann Arbor.
"Ann Arbor is very fitness conscious," said Lloyd. "Everyone is always looking for new, innovative ways to lose weight."