Posted on
Fri, Jul 6, 2012 : 5:57 a.m.
TMC Furniture of Ann Arbor expands to walls, ceiling panels and higher-end seating
By Laura Blodgett
TMC Furniture, the 15-year-old commercial furniture maker in Kerrytown, is branching into wall and ceiling panels as well as a new line of high-end seating and tables with the launch of two new companies: Victoria & Kane and Ode Creative.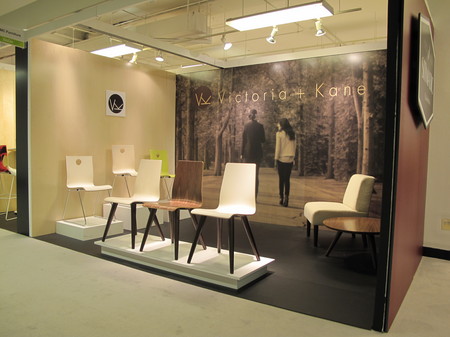 From TMC Furniture
Its new hospitality company, Victoria & Kane, focuses on higher-end seating and tables for hotels, homes, restaurants, bars and offices.
Pieces feature classic wood, modern laminate shells and chrome frames with a look pulling from the mid-century. Using walnut and ash veneers, the sleek and sophisticated pieces - such as a lounge chair contrasting a rich wooden leg with créme-colored fabric— target the interior design community.
Ode Creative, focusing on wall and ceiling panels, uses processes such as imprinted and digital images printed directly on the wood and cut-outs that allow light to flood through interesting designs to create a decorative piece.
Both companies were launched as a way for TMC Furniture to expand its business in existing markets, mainly health care, libraries and hotels.
"When we sell a furniture package, the wall and ceiling goes along with it," said Jaclyn Giuliano, of TMC Furniture's marketing department. "So this opens us up to working more with architects and designers."
The two companies were just launched at NeoCon 2012, the design trade show held annually in Chicago, and were well -received, Giuliano said.
"With Ode, there's definitely a market there that can be filled. A lot of people are looking for decorative panels like this. The Victoria & Kane [line] we see being able to grow into hotels, restaurants and eventually homes."
Founded and operated by husband-and-wife team Blake and Sherri Ratcliffe, who serves as head designer, TMC Furniture started as a children's library furnishing line before growing into adult furniture serving mainly health care and offices. The company also maintains a factory in Grand Rapids.
Catering strictly to the commercial market at this point, TMC Furniture has worked with clients from Mott Hospital and the University of Michigan Law School to the San Diego Library and Metropolitan Museum of Art in New York.
Business is going well, says Giuliano, and the company — which has 11 full-time employees — is growing consistently. TMC is at 119 E. Ann St.
"We definitely see that those markets are out there: hotels, health care and restaurants," said Giuliano. "The design industry is picking up."