Posted on
Fri, May 18, 2012 : 5:58 a.m.
Toll Brothers re-enters Ann Arbor home building market with project in Lake Forest
By Paula Gardner
Toll Brothers Inc.will open a new development near Ann Arbor on June 1, marking the national builder's re-entry into the area after years of severe declines in the new construction industry.
The company will open The Pines at Lake Forest, building on 24 lots in the Pittsfield Township property near Ellsworth and Maple roads.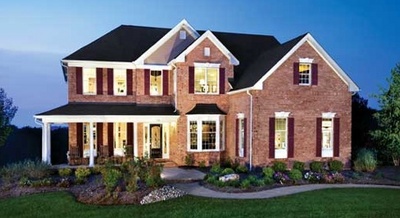 From Toll Brothers
"We've been looking to get back into the Ann Arbor market," said Jeff Brainard, senior project manager in Michigan.
Toll Brothers was among the major national builders — along with companies like Pulte and Centex — that drove Washtenaw County's new construction boom from 2000 to 2005.
In those years, builders were adding 1,700 to nearly 2,000 single-family homes per year to the county's landscape. By 2006, the number was falling to about 500, falling to a decade-long low of 158 in 2009, according to regional data.
As new construction slowed, so did land development — and many builders, like Toll Brothers, walked away from options to purchase developed lots. That happened as values of existing homes fell, prompted in part by a wave of foreclosures.
However, the company maintained a smaller presence in southeast Michigan and completed projects on owned parcels in the region. Among them: Walnut Ridge and Glennborough near Ann Arbor.
The launch of the new project in this market follows some signs of economic rebound.
It also comes weeks after the company said it's seeing new construction rebounding in other markets - including southeast Michigan, where its also adding to its lot inventory in Northville Hills in western Wayne County.
While still predicting periods of volatility in the market, "we believe when demand picks up, builders and developers with approved land in well-located markets will be poised to benefit," Toll Brothers said in its quarterly report.
Ann Arbor is one of those markets, Brainard said.
"Hopefully this is just the beginning for us coming back into Ann Arbor," he said.
The deal for the Lake Forest property took place this spring, a few months after Toll revisited it and made an offer to developer Louis Johnson. Company officials had looked at it about six years ago, Brainard said, as the market was starting its downturn.
Today, he said, the new homes will start at 3,200-square-feet at prices in the upper $400,000 range.
They'll be executive level homes, he said, that will mesh with other Lake Forest communities in that area.
Toll Brothers [NYSE:TOL] is based in Pennsylvania. Its stock traded Thursday at $25.96, giving it a market capitalization of $4.33 billion. The stock's 52-week range is $13.16 - $27.80.