Tony Sacco's Coal Oven Pizza restaurant to open on Ann Arbor's south side
Posted on Thu, Jun 14, 2012 : 2:45 p.m.
A franchisee for the Florida-based Tony Sacco's restaurant signed a deal last week to bring its coal oven pizza to Ann Arbor.
Franchise owner Keith Gulian signed a lease for a space in the outlot building next to Potbelly Sandwich Shop in the Cranbrook Village Shopping Center in Ann Arbor. Located on West Eisenhower Parkway, the center is anchored by a Whole Foods Market and REI.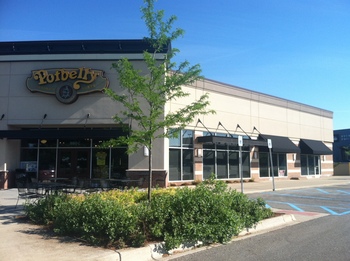 Lizzy Alfs | AnnArbor.com
The Tony Sacco's menu consists of coal oven-fired pizzas, sandwiches, salads and desserts. It also carries beer and wine.
According to the website: "Everything we serve is prepared fresh daily. We have no freezers, fryers, grills or microwave ovens. Everything we make is made fresh to order and baked in our coal oven."
The restaurant currently has 10 locations in six states. There are two other locations in Michigan: a newly opened one in Lansing and one in Novi.
George Kurajian, the franchise's co-founder and also a University of Michigan graduate, said the restaurant has plans to expand, with five more locations set to open by the end of the year.
Ann Arbor, he said, has the right demographic for a restaurant that uses fresh ingredients and focuses on quality food.
"We originally were going to put it in downtown Ann Arbor, but with parking being such an issue in downtown, we decided to locate out by the mall there," Kurajian said. "A lot of our customers that are health conscious and like good quality also shop at Whole Foods. It's the same type of clientele."
Gulian added: "I love the area. It's a high traffic area and I love Whole Foods, REI, and I'm a Potbelly fan."
He hopes to open the restaurant in four to five months pending liquor license approval.
With Tony Sacco's and Potbelly now located in the shopping center's outlot building, Tom Goldberg, an owner of Cranbrook Village, said it likely has room for two additional tenants.
"There's positive activity in the market. We're working on other tenants for the building and we want to be careful in selecting them," he said. "There's no shortage of restaurants in our community, but I think the (Tony Sacco's) guys are hard working, and it will be well received."