Posted on
Tue, Sep 4, 2012 : 10:11 a.m.
Top 10 jobs on the decline in America: postal service leads the way
By Ben Freed
Thanks to increased use of e-mail and other online communication options, 24/7 Wall Street reports that postal service workers will be the occupation category that loses the most jobs in the next 10 years.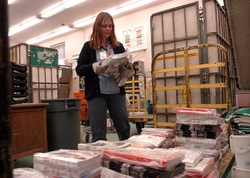 While the US is expected to add nearly 20 million jobs between 2010 and 2020, not every profession will be seeing the benefits of that growth. Using data from the
Bureau of Labor Statistics
, 24/7 Wall St. has determined the ten professions that have the bleakest outlook over the next decade.
Many of the professions on the list have been hurt by the increased automation of their jobs, while many textile repair or manufacturing jobs that appear on the list are on the decline due to the outsourcing of labor to the developing world.