Posted on
Mon, Mar 4, 2013 : 5:59 a.m.
Top 15: Ann Arbor bars ramp up liquor purchases and sales
By Lizzy Alfs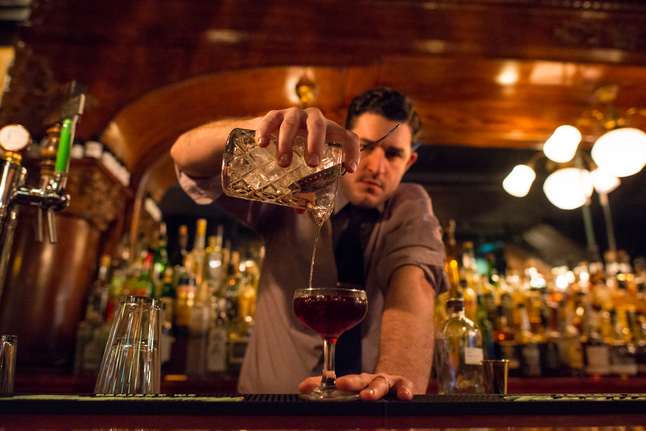 Courtney Sacco | AnnArbor.com
A growing craft cocktail movement and a thriving nightlife scene in downtown Ann Arbor is reflected in statewide data that shows wholesale liquor purchases by bars and restaurants are on the rise.
The state's wholesale liquor sales topped $303 million in 2012, generating revenue of $71.9 million, according to data from the Michigan Liquor Control Commission. That compares to gross sales of $284 million in 2011, with $65.8 million in revenue.
Sales to on-premise licensees — such as bars and restaurants that purchase liquor wholesale and then sell it for consumption on-site — accounted for $46.9 million in 2012, up 4.4 percent over 2011.
In Washtenaw County, data on the top 15 establishments ranked by wholesale purchases shows 2012 was a big year for liquor. One popular college bar, Good Time Charley's on South University, exceeded $300,000 in liquor purchases for the first time.
"We're just thrilled with how Charley's has been performing," said owner Adam Lowenstein. "That's a lot of purchases and sales."
Countywide totals showing year-over-year changes won't be available from the state until June, but Washtenaw County's top 15 liquor buyers increased their purchases by 5.7 percent in 2012.
The data isn't a gauge on non-liquor sales, like food or beer, and some bars buy more expensive liquor than others. Still, it's indicative of business volume and a consistent measure showing how much inventory bars and restaurants need on stock to sell.
Among the county's top liquor buyers last year, 14 are in Ann Arbor, 12 of those are downtown, and several are bars populated by college students. Ypsilanti restaurant and bar, Aubree's in Depot Town, also made the list.
The top four buyers — Charley's, Blue Leprechaun, Netco and Knight's — exceeded $200,000 in purchases. All of the top 15 buyers exceeded $100,000.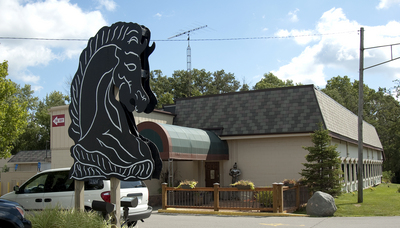 knights steakhouse
"This goes back to (Ray Knight, Knight's founder): he's always poured a generous drink for an honest price," said Don Knight, who runs the restaurant on Dexter Avenue. "That's been our philosophy for 30 years."
South University Avenue's Blue Leprechaun increased its purchases by 31 percent after the owners opened a bar in the basement called the Study Hall Lounge. Meanwhile, South Main Street's Melange's liquor purchases dropped by 21.8 percent after the restaurant got a new chef and revamped its menu to focus on food.
Banfield's Bar & Grill and Conor O'Neills fell off the top 15 in 2012, being replaced by Ravens Club and Last Word/LIVE. Lowenstein and his business partners purchased LIVE and Goodnight Gracie last year, opening The Last Word cocktail bar in the Goodnight Gracie space.
Ravens Club owner Jeff Paquin said his downtown establishment, which opened in May 2011, is boosting its wholesale liquor purchases as appreciation for craft cocktails grows among Ann Arborites.
"This speaks to me that my deck was right; that Ann Arbor was ready for further advancements of the cocktail scene," he said. "We've now established ourselves as a place to get a really quality product."
Paquin said the data also reflects that he purchases the best and most interesting liquors he can find.
"It keeps us interesting. It makes us relevant," he said.
Lowenstein, also one of the owners of Alley Bar, agreed that the growing popularity of craft cocktails is boosting liquor purchases. The Last Word and Alley Bar both emphasize made-from-scratch cocktails.
"I think that basically, people are regaining that interest in quality and how something is made, and I don't think that will go away," he said.
It also helps, he said, that downtown Ann Arbor has a thriving — and constantly expanding — bar and restaurant scene.
"There are more and more restaurants and bars that are opening all the time," he said. "I think, in general, that's great…I think Ann Arbor can support it and the more people that are coming downtown, the more exposure you have."
Here are the top purchasers in Washtenaw County in 2012, showing the change from 2011:
1. Good Time Charley's $317,836 (11 percent increase)
2. Blue Leprechaun/Study Hall Lounge $268,560 (31 percent increase)
3. Necto $265,526 (4.7 percent decrease)
4. Knight's Steakhouse $216,829 (5.9 percent increase)
5. Rick's American Cafe $171,741 (9 percent increase)
6. Weber's $170,009 (2 percent decrease)
7. The Last Word/LIVE $166,886 (no comparison)
8. Scorekeepers $145,313 (5.6 percent increase)
9. Rush Street $143,552 (6.5 percent decrease)
10. Black Pearl $140,701 (2 percent decrease)
11. Brown Jug $132,970 (2 percent increase)
12. Aubree's in Depot Town $112,336 (9.3 percent increase)
13. Alley Bar $108,733 (6.6 percent decrease)
14. Melange $108,506 (21.8 percent decrease)
15. Ravens Club $103,092 (no comparison)
Lizzy Alfs is a business reporter for AnnArbor.com. Reach her at 734-623-2584 or email her at lizzyalfs@annarbor.com. Follow her on Twitter at http://twitter.com/lizzyalfs.