Posted on
Wed, Nov 23, 2011 : 5:58 a.m.
Top 5: Signs that Black Friday is heading in the wrong direction
By Paula Gardner
I've got nothing against bargains, holiday shopping or marketing strategies, but you can count me among the people who feel like Black Friday's gone too far.
This year, more Ann Arbor-area stores than ever before are opening at midnight - or earlier on Thursday.
They're advertising their sales weeks in advance. They're scheduling employees to work on a holiday and overnight in the hopes that they'll win the retail war and emerge from the year with profits.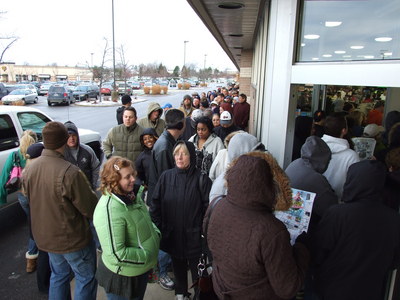 Nathan Bomey | AnnArbor.com
In return, the National Retail Federation says about 14 million additional people will hit the stores this weekend, or about 152 million people in the U.S.
Yet 77 million of are holding off on their commitment - they're waiting to see if the deals will be worth it.
So will they be worth it? I've got my doubts. I also think that, after years of building up to this point, Black Friday is in danger of losing its core audience instead of building it.
The reason: This year, all of the hype sounds the same. And the key indicator of that is the endlessly earlier opening hours that are finally - and significantly - eating into the Thanksgiving holiday.
Here are my top five signs that Black Friday is on the verge of shifting from a fun and functional retail event:
1. Where's the fun? It's the diehard Black Friday shopper who's been willing to stand in line for hours and strategically shop with friends and family that made this post-holiday retail milestone an event. When you talk to people who shop that day, they love it. They don't want to miss it and it's become part of their holiday. And they pushed the day to the extreme, giving the day its reputation - and pushing the retailers to come up with still more ways to sell. But with competition fierce and profit margins thin or limited on hot-sellers, retailers turned to the clock instead of deeper discounts. So now the retail one-upmanship has blurred into Thursday, creating one big blurry definition of Black Friday - and too many choices for the average Black Friday consumer. If the fun goes out of the day - and I believe it's getting close for more shoppers this year - all retailers will have to fight hard for the day to regain its luster.
2. It's getting too easy to ignore. Those special ornaments, limited-time offers, and gift-cards with purchase sound good, but do they really sell out in the first hour? Not in every instance. We've all learned that many, many sales get better - or at least they're repeated - on successive weekends closer to Christmas. And so-called "doorbusters" are all very limited in quantity. So what, then, do I get for leaving a family meal early, pulling a shopping all-nighter, setting the alarm for the middle of the night? Odds are, just an incremental gain when I compare it to the deal I'll be offered within days or weeks. When consumers face that choice, the need to shop anything related to Black Friday could be minimized.
3. Resale stores are getting into the act. More power to these stores, especially ones that operate as a non-profit. But let's recognize that their Black Friday sales could be happening any day of the week. These stores can't promise door-busters, since a huge part of their appeal - aside from price -is the ever-changing and unique merchandise mix. Even they don't know what will be on the sales floor by Friday. On a personal level, I appreciate that places like Play it Again Sports and Value World are seeing a marketing opportunity. But considering it as a retail trend, I can't help wonder if they'll just add more market confusion.
4. There's a danger for retailers - and our shopping centers. Last year, shopping traffic at malls and shopping centers on Black Friday was up 2.2 percent - but sales were up 0.3 percent. Then a few days later, Americans spent $1 billion online during "Cyber Monday" sales. So while these major retailers are spending more effort and operating costs to open ever-earlier for Black Friday, they're seeing ever-growing sales from the less-expensive-to-operate online outlets. There's a worthy "buy local" backlash to Black Friday that I'm not covering here, but I will say that we need to be concerned about national retailers taking steps - like extending Black Friday hours - that can marginalize their bricks-and-mortar stores. The recession already wasn't kind to the nation's malls. Less store profits will eventually mean more empty storefronts.
5. Americans could use a day set aside to be thankful. We live in a country with both a standard of living and degree of wealth that many on this globe envy. Access to opportunity, to education, to religious freedom exist for all of us. And while many among us struggle, I also believe that people, given the chance to reflect on their circumstances, will be grateful for what's good in their lives. It's disappointing to see that national holiday that gives Americans that collective chance to give thanks blur into a days-long contest to shop more and sell more - and, for the employees involved, work more. Can we get Thanksgiving back?