Posted on
Fri, Jul 13, 2012 : 2:16 p.m.
Top 5: Reasons Ann Arbor benefits from new US Trademark and Patent office in Detroit
By Ben Freed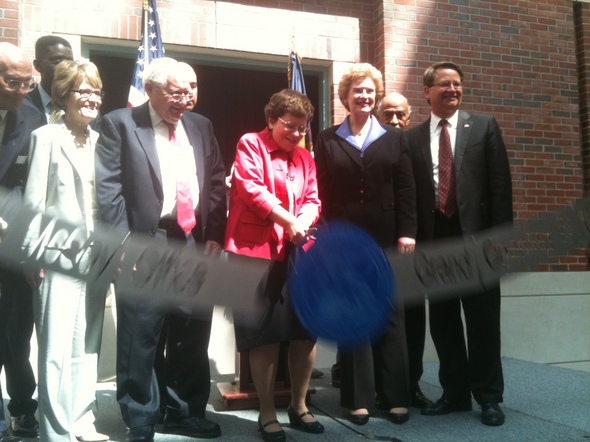 Ben Freed | AnnArbor.com
This story was updated to reflect the fact that the patent office is named after Ypsilanti inventor Elijah McCoy.
The first United States Trademark and Patent Office satellite office is open in downtown Detroit, a move celebrated Friday with federal and local officials. The office is the first of four offices being established across the country, offering resources to businesses and investors.
The office is officially named the Elijah J. McCoy Patent Office. McCoy was an inventor from Ypsilanti whose oil-drip lubricating cup was so dependable that it coined the term "the real McCoy."
While the center is located in Detroit, Ann Arbor has plenty of reason to take notice. As a growing hub of innovation, the city stands to benefit from the newly local U.S. government presence.
Here are the top 5 reasons Ann Arbor should care about the new office:
1) When Detroit's doing well, Ann Arbor's doing well:
While many Ann Arborites might like to think of themselves as removed from Metro Detroit, the regional economy is very co-dependent. The University of Michigan works closely with Detroit companies (especially automakers) on many research and development projects.
University of Michigan president Mary Sue Coleman told the crowd today that the University's first funded research project was a result of cooperation between Ann Arbor and Detroit. Detroit industrialists paid the university to build an observatory for accurate time measurements that could be telegraphed to Detroit for companies who needed the precise minute and hour.
The office being opened here is a sign that with the Big Three on the rebound, the Obama administration is doubling down on their bet that the automobile industry can help pull the nation towards recovery.
"With the building of this office, we're making another investment in the city of Detroit, the State of Michigan, and the nation as a whole," acting Commerce Secretary, and former dean of the Gerald Ford School of Public Policy at U of M, Rebecca Blank said at the ceremony.
That investment will begin by hiring 120 people, including 100 patent examiners with engineering degrees within the office's first year of operation.
2) It's not just about cars, and it's not just about engineers:
While many of the patents produced by Detroit area companies have to do with the automobile industry, this office will help inventors and start-ups across a range of industries.
"This isn't your father's factory any more," Senator Debbie Stabenow (D-Mich) said. "Every part of what we do involves new technology and new innovations."
The office will also mean more work for local patent attorneys, and potentially for law school students as well.
"I'm envisioning that there will be opportunities for internships, for jobs, and just for students to come here and see what this is all about," Coleman, who had been at the forefront of the lobbying campaign to bring the office to Detroit, said. "I'm so excited for it because it is a visible acknowledgement that this place is important for the national and for the world."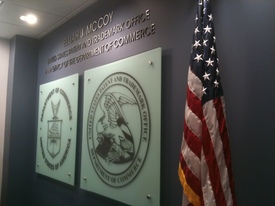 Ben Freed | AnnArbor.com
3) The University of Michigan is a patent machine:
According to the Tech Transfer office at U of M, the University applied for 1,337 patents between 2001 and 2010. Coleman said that it kept that pace and applied for more than 130 patents last year.
Those numbers mean that the University of Michigan alone produces more patents than nine states and the District of Columbia.
Congressman Gary Peters (D-MI 9) said that with the number of patent applications nationwide growing every year, the patent office has a backlog of more than 600,000 applications waiting to be examined. This new office, and the ones opening across the country, will help to alleviate some of that congestion, and will make the patent approval process easier and faster for university inventors.
"We plan to keep this office busy," Coleman said. "This office helps move us closer to our goal of being able to commercialize our inventions."
4) The eyes of the Midwest (and the nation) are on Michigan:
Never underestimate the power of being seen as the "cool" place to do business. It sure worked for a certain other region that will be getting their own patent office in the coming months.
With the opening of the office here, it was the opportunity for many to note that southeast Michigan is quickly becoming a destination for new companies and technology start-ups.
"I was in Silicon Valley the other week. I said to people in Silicon Valley, if you work really hard, in a few years you might be able to catch up with Detroit," Blank said.
For Ann Arbor, more start-ups means more business. While some start-ups and technology companies are locating in Detroit, many, including Google and Barracuda Networks, have chosen to set up shop in Ann Arbor.
If this patent office increases high-tech activity or draws increased venture capital attention to the region, and Ann Arbor continues to be placed on every "Top-10 desirable cites for any demographic" list, things could get very busy very quickly in Tree City.
5) We're number one!
Detroit beat out Dever, Colo., Dallas, Tex., and Silicon Valley, Calif., for the honor of having the first satellite office opened in their city. While much of this success was due to activity in the city of Detroit, there were also broader trends that helped the department of commerce decide to locate here.
The local university corridor, including the University of Michigan, Michigan State University, Wayne State University, and a number of other schools trail only Boston and Silicon Valley for the title of most vibrant in the country, Coleman said.
According to the US Patent and Trademark Office website, more patents originated in the State of Michigan than in all but five states in 2011. Stabenow added that Michigan has been the number one state for green energy related patents.
Many speakers mentioned that the location in Detroit was symbolic of the region. One would have liked to see it located just a few miles away.
"I recommended that the office be located in Ann Arbor," Congressman John Dingell (D-MI 15) said. "Well, I guess 60 miles away isn't too bad."
Ben Freed covers business for AnnArbor.com. Reach him at 734-623-2528 or email him at benfreed@annarbor.com. Follow him on twitter @BFreedinA2