Posted on
Tue, Nov 24, 2009 : 11:43 a.m.
Toyota considering relocating operations to Ann Arbor region
By Nathan Bomey
Toyota is reportedly weighing whether it should relocate some California-based operations to the Ann Arbor region, where the company has about 1,100 workers.
Toyota is considering shifting its Los Angeles-based product planning, accounting, travel and data services operations to Kentucky or Michigan, according to Bloomberg.
"It's a real potential boon for Michigan if they can actually secure that move by Toyota," said Bruce Belzowski, assistant research scientist for the University of Michigan's Transportation Research Institute. "Those are knowledge-type jobs, and that would be very good for the economy."
The move would cut costs for the struggling Japanese automaker in part because high-tech salaried workers in Michigan and Kentucky are generally paid less than salaried workers in California.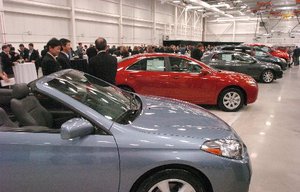 File photo
Mike Goss, a Toyota spokesman, declined to confirm the report this morning.
"We're always looking at ways to be more efficient," Goss told AnnArbor.com. "But there hasn't been any decision made on this type of activity."
Last year, Toyota officially opened the $187 million, 530,000-square-foot Toyota Technical Center, marking the completion of a years-long expansion. The facility is housed on some 700 acres of property, leaving plenty of room for future expansion.
Bruce Brownlee, senior executive administrator for external affairs at the Toyota Technical Center, is traveling and was not available for comment this morning.
Toyota's local engineering center, located in York Township, conducts engineering and design work for vehicles sold in North America. The operation conducted engineering on the 2009 Toyota Venza, for example. The company also said last year it would invest $100 million to establish the Toyota Research Institute of North America at the former location of the technical center in Ann Arbor Township.
Brownlee said in May that Toyota was aggressively cutting costs at the engineering center to avoid layoffs as the automaker labored through the global auto crisis.
"While there's no plan to leave California, as Nissan Motor Co. did in 2006, a 'significant' number of positions may eventually move," Bloomberg reported.
Ann Arbor would be competing with Toyota's massive manufacturing operation in Kentucky to land the relocated operation. Belzowski said the product planning division of Toyota "probably would fit better being closer to the tech center rather than to the factory."

"If you're Toyota and you're really worried about costs, then everything is up for grabs. They're probably looking at all ways of trying to reduce costs while at the same time keeping the same kind of quality of workers that they have," Belzowski said. However, "if they feel that they have the (high quality) workforce in California, it may be difficult to transition them to Michigan or Kentucky."
Toyota suffered a $4.8 billion loss in its last fiscal year, shocking the industry with its worst performance in 72 years and underscoring the breadth of the economic crisis. But sales are slowly creeping upward as Toyota reported a 5 percent uptick in October 2009, compared to October 2008.
The report comes after Ann Arbor-based think tank Michigan Future Inc. issued a study last year suggesting Michigan's low-paid, high-skill workforce could eventually serve as an economic development asset.
"Lower wages in the knowledge-based sectors of the economy - where most of the job growth and good-paying jobs are - could be a competitive edge for Michigan," Michigan Future President Lou Glazer wrote.

Contact AnnArbor.com's Nathan Bomey at (734) 623-2587 or nathanbomey@annarbor.com. You can also follow him on Twitter.