Posted on
Mon, Jan 11, 2010 : 11:18 a.m.
Toyota's FT-CH hybrid concept vehicle would beat Prius on fuel efficiency, price
By Nathan Bomey
Toyota today unveiled a new hybrid concept vehicle designed to be cheaper and more fuel-efficient than its popular Prius.
The Japanese automaker revealed the Toyota FT-CH this morning at the 2010 Detroit auto show. The vehicle would be part of what Toyota is calling the Prius "family" of vehicles - which represents a new marketing strategy designed to leverage the Prius brand.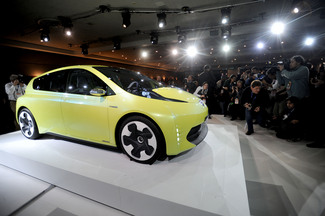 Angela J. Cesere | AnnArbor.com
"It's hard to argue with the notion that Prius has become a universal icon," said Toyota Motor Sales USA President Jim Lentz.
The FT-CH looks like a squeezed version of the Prius, with a stylized hood and hatchback.
Lentz said the vehicle would get better fuel economy than the Prius, which averages 50 miles per gallon, but he declined to be more specific. It would be a traditional hybrid, not an electric vehicle, meaning a battery would assist the gasoline engine to get better fuel economy.

The car, which would be introduced in 2012 if it's approved for production, would also cost less than the Prius - which reflects cost improvements with batteries. The Prius costs more than $20,000.
The FT-CH, which is 22 inches shorter than the Prius but about the same width, "thrives in the inner-city environment," Lentz said. It's targeted at a "younger, less affluent demographic" that wants a fuel-efficient car designed especially for city driving but capable of freeway speeds.

Toyota is promoting the FT-CH as "inspired by the 8-bit generation," a reference to 1980's videogame technology.
"Today 8-bit is considered a specific retro style" that Toyota's European designers tried to integrate into the FT-CH, Lentz said.
Contact AnnArbor.com's Nathan Bomey at (734) 623-2587 or nathanbomey@annarbor.com. You can also follow him on Twitter.