Posted on
Sun, May 6, 2012 : 5:58 a.m.
Track your child: Ann Arbor couple develop software to digitize day care centers
By Lizzy Alfs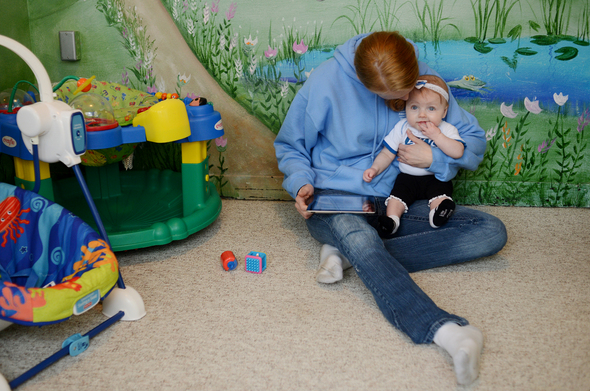 Melanie Maxwell | AnnArbor.com
When
Melissa Jorgensen
's 5-month-old daughter,
Addison
, recently fell ill with a bronchial infection, Melissa needed to ensure her daughter was being properly cared for at day care.
Was Addison getting her medicine on time? Was she coughing much during the day? Did she go down for her nap?
Thanks to a software system developed by two Ann Arbor day care owners, Melissa was able to receive text messages and emails throughout the day to stay updated on Addison's condition. She could also check, in real-time, Addison's online activity log.
Child Care Daily App, a company launched last year by Robert and Anne Kennedy, the owners of three Annie's Children's Centers in Washtenaw County, is now being used in roughly 40 day care centers around the country.
The program digitizes centers' required record keeping, such as the activities kids participate in, diaper changes, the foods they eat and when they go to sleep.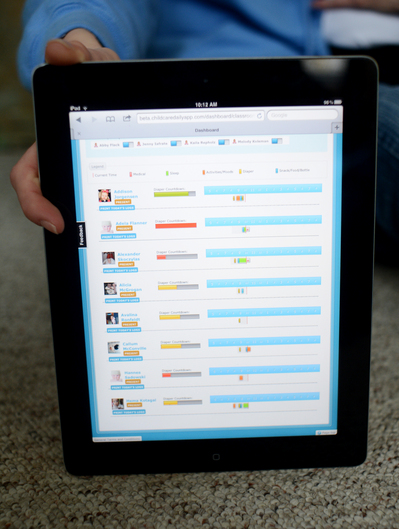 Melanie Maxwell | AnnArbor.com
These reports were previously hand-written and given to parents at the end of the day.
"It was a very antiquated, very archaic way of how records were being kept," explained Bill Collins, Child Care Daily App's Chief Operating Officer. "It's time consuming, and the communication that takes place with parents is limited to pretty much when the kids get dropped off in the morning and picked up in the evening."
With Child Care Daily App, teachers in centers record activities as they happen on a Web-enabled device and the system creates a daily report. Parents can log into their child's account to see what's happening throughout the day and can also automatically receive specific alerts via email or text message.
"I get messages all day long," Jorgensen said. "Just that constant reassurance that (Addison's) having a good day, hasn't been coughing much and is feeling better — that's one of my favorite parts of it."
The program also allows teachers to attach photos to the reports and alerts; something Collins said "makes a parent's day."
Collins said Child Care Daily recently hired a marketing consultant and there are now six employees working for the company, with plans to double that by the end of the year. The office is located next to an Annie's Children's Center on Beakes Street in Ann Arbor.
In February, the company received $10,000 in funding from Ann Arbor SPARK's Business Accelerator service.
The program costs day care centers $2.50 per child per month to use, and it's flexible, so the center can decide how many children to put on the program and can add or remove kids at any time.
Collins, who calls Child Care Daily "the next best thing to being there," said feedback on the program thus far has been very positive.
"Parents are choosing to use our centers because of this program," he said. "I can't imagine having a 6-week-old baby and having to go back to work and drop that baby at child care. That separation anxiety is huge."
Jorgensen, a first-time parent, agreed: "(Addison) is starting solids now, so to be able to track those kinds of things and how she's doing with them is great. Should we be upping things? Should we be giving her different options? Those things are harder to track when you're not with your child all day."
Lizzy Alfs is a business reporter for AnnArbor.com. Reach her at 734-623-2584 or email her at lizzyalfs@annarbor.com. Follow her on Twitter at http://twitter.com/lizzyalfs.