Posted on
Thu, Jul 26, 2012 : 2:15 p.m.
Tropical Smoothie Cafe to open on East Liberty Street in downtown Ann Arbor
By Lizzy Alfs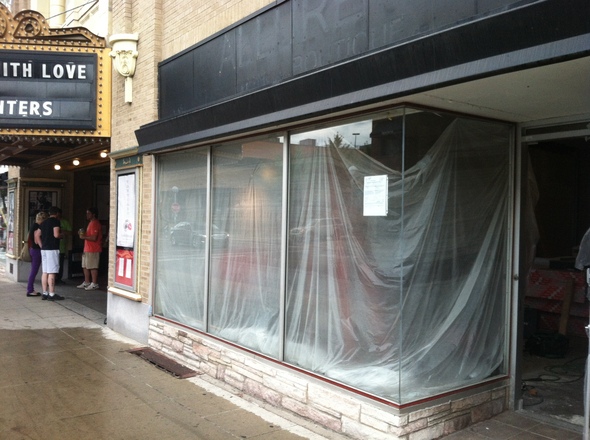 Lizzy Alfs | AnnArbor.com
Three months after the owner of
Allure Boutique
closed
his East Liberty Street store, the downtown Ann Arbor space has a new tenant:
Tropical Smoothie Cafe
.
Lizzy Alfs | AnnArbor.com
A franchisee for the Florida-based restaurant and smoothie shop recently signed a lease for the 1,293-square-foot space at 607 E. Liberty St.
According to city documents, franchise owner Hani Halloun applied for reoccupation and construction permits in June.
Halloun could not be reached for comment regarding his plans or timeline for opening, but the building's listing broker, Randy Maas of Swisher Commercial, said the restaurant should open in a couple of months.
Founded in 1993, Tropical Smoothie Cafe has 14 locations in Michigan. The restaurant's menu includes a range of smoothies, wraps, sandwiches, flatbreads, salads and breakfast foods.
Halloun signed on to open three Tropical Smoothie locations in the Ann Arbor or Brighton area, said Sarah Athey, a sales agent with Retail Site/Selection Services who represented Halloun in the deal.
"This was his first location, and he really wanted to get near campus," Athey said.
She added: "In terms of the location — State and Liberty — we felt it's really the heart of downtown Ann Arbor. He'd like to cater to the student population as well as the office crowd, the locals and the families that live down there."
Maas said the space had a quick turnaround time because the deal fell into place before the space was formally put on the market.
"We were trying to put Tropical Smoothie in a different space that didn't work out, so when the Allure space became available, we contacted (Tropical Smoothie) right away and they really liked it," he explained.
A similar smoothie restaurant, Beyond Juice, was located in the same East Liberty Street building before closing in December 2010. That space is now occupied by Mediterranean restaurant La Pita Fresh — which was recently sold to a new owner.
Other changes on that block:
Yoggie's frozen yogurt shop replaced Poshh boutique
Lizzy Alfs is a business reporter for AnnArbor.com. Reach her at 734-623-2584 or email her at lizzyalfs@annarbor.com. Follow her on Twitter at http://twitter.com/lizzyalfs.