Posted on
Mon, Oct 8, 2012 : 5:59 a.m.
Tyner Furniture experiences 'healthy increase in business' after Costco opening, looks to develop unused parking lot space
By Ben Freed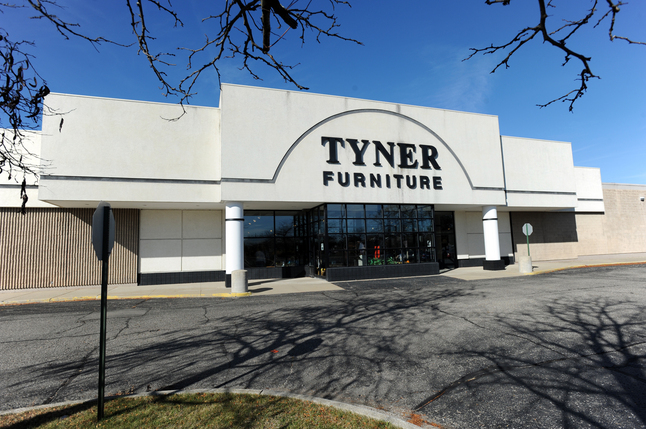 Lon Horwedel | AnnArbor.com
The Miller family
was optimistic
that the new Costco would bring business to their furniture store, located next door on South State Street in Pittsfield Township.
Since the new store's opening, Tyner Furniture's operator, Eric Miller, said his store has seen a "healthy increase in business."
"We try to track after every contact what brought the person to our store," he said, "whether it was just a drive-by sighting or how they got here… recently a good portion of them come to the area because of Costco."
That increase in business has come at a good time for Miller and the approximately 25 full-time employees at the store, which has been owned by the Miller family for three generations. There were some difficult years during the recession when housing sales were down, creating less demand for new home furnishings. Fred Miller, Eric's father, called 2009 a "downer year" in a previous interview.
The new warehouse store has also greatly increased the value of the massive parking lot owned by the Miller family, which Miller admits is far bigger that what is required for the furniture store. Another corner on the State-Ellsworth intersection is being developed into retail space to take advantage of the increased traffic from Costco. Miller said he has had discussions with developers and prospective tenants regarding his open property.
"Development is not our expertise," he said. "So we've seen what is around other Costcos in southeast Michigan… and we've been talking to people that have that expertise, and given the right opportunity we'd like to take advantage of it. We know it will come eventually."
Miller said he thinks the development of a Tim Horton's across the street will be beneficial for the area and that he thinks his corner of State and Ellsworth will be developed within the next three years.
That corner is part of a "node" that the township has designated for mixed-use development in its 2010 Master Plan. The plan envisions the corner with a mix of artist living and working spaces and mixed-use buildings with nearby community gardens and a transit station.
"The township's vision… gives general parameters for the development of the land," Township Supervisor Mandy Grewal said.
"We want mixed residential, retail, commercial, and even business possibly in the nodes. We're really looking to retain our existing vibrant businesses but still have increased density in the areas."
Miller said he's seen the master plan and thinks that such development is possible, but he has yet to be approached by a developer that he was comfortable moving forward with.
"The people at the township seem to have a good vision as of today, and they are working with developers that share that vision," he said.
"But I'm not a developer, and we've talked to people and there hasn't been anything yet that seemed to make fiscal sense."
Ben Freed covers business for AnnArbor.com. Reach him at 734-623-2528 or email him at benfreed@annarbor.com. Follow him on twitter @BFreedinA2