Posted on
Mon, Nov 21, 2011 : 5:58 a.m.
The Dirty Wolverine: University of Michigan grad launches 'pop-up' clothing store in Ann Arbor
By Lizzy Alfs
It wasn't University of Michigan graduate Ashlee Arder's plan to be back in Ann Arbor so soon after graduation.
In fact, right now she should be in Japan, where she landed a job teaching English. But her plan was thrown off course when she got there and three days later experienced a massive earthquake on March 11.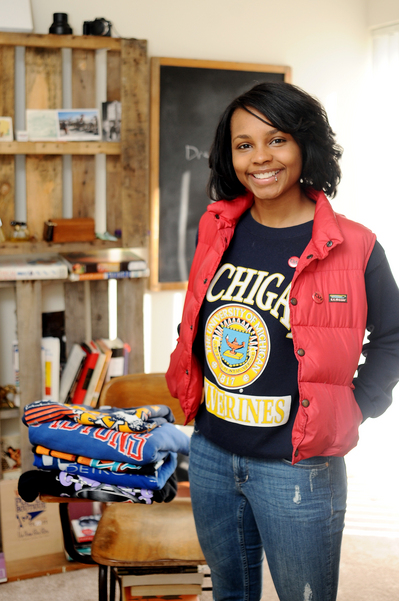 Melanie Maxwell | AnnArbor.com
"I came back, and it was like, 'Okay, now what?'" Arder recalled. "I had prepped myself to be out of the country for at least a year or two."
But it didn't take Arder long to get back on her feet. The day after returning to Ann Arbor, she landed a job at Footprints on South Main Street downtown.
Now, she's launched her own retail business: a pop-up clothing store called The Dirty Wolverine.
The business model is simple, but it's still fresh to the Ann Arbor community, Arder said.
She rents space from a local business for a night, and sets up a temporary retail store. For a few hours after the local business is closed, Arder sells vintage Michigan clothing.
"I go in and transform the space so it almost looks like a vintage, members-only cigar lounge," Arder said. "I put a lot of memorabilia on the wall and spread antiques throughout the room."
The Dirty Wolverine sells all Michigan-themed clothing, mostly items from the 80s or 90s. There are a lot of U-M items, but also Pistons, Red Wings, Lions, Tigers and other state gear.
"Everything is in some way related to Michigan," Arder said. "There are a lot of sports related items, but not everything. It really is just about capitalizing off people's Michigan pride and school spirit."
Arder's first pop-up site was at Footprints on Sept. 25, where she said the turnout was great.
Her next pop-up location: Van Boven Shoes in Nickels Arcade from 7-10 p.m. on Nov. 22.
Although Arder said the pop-up clothing trend isn't new, there has been a reemergence of the idea, which she attributes to the economic climate.
"The concept is just something that right now is working for a lot of people because of the state of the economy," she said. "People don't have the money to do what businesses used to do."
But the most important aspect of this type of business model, Arder said, is to get people to shop in eco-friendly ways.
"When we buy mass produced things from chain stores, the methods used to make them are often not sustainable. But buying a second-hand garment is something small that people can do."
And Arder has a message about second-hand clothing: "You can really find things of quality, but a lot of people don't have the patience. Hopefully, I can break down their stereotypes."
Arder, who calls herself a "thrift junkie," hopes to develop a strong business out of The Dirty Wolverine, eventually expanding the idea to other college campuses.
"I just want to get the word out," she said. "I think it can become something that's larger than me and Ann Arbor and the University of Michigan."
Check out some of The Dirty Wolverine gear here.
Lizzy Alfs is a business reporter for AnnArbor.com. Reach her at 734-623-2584 or email her at lizzyalfs@annarbor.com. Follow her on Twitter at http://twitter.com/lizzyalfs.