Posted on
Tue, Dec 28, 2010 : 10:04 a.m.
Newer Ann Arbor bakery Sweet Heather Anne uses local food for cake ingredients
By Lizzy Alfs
A University of Michigan School of Art and Design alum is taking her art education from the classroom to the kitchen with the opening of her new Ann Arbor bakery, Sweet Heather Anne.
Owner Heather Anne Leavitt said she and her three employees started working from a rented kitchen at 359 Metty Drive in Ann Arbor in May. The rest of the space is occupied by a catering and event planning company, Katherine's Catering.
Sweet Heather Anne specializes in "lovely cakes made with local ingredients," according to the bakery's website. Leavitt said the specialty cakes are custom designed for each client and she uses mostly local ingredients.
"We use local fruits and vegetables, and all the butter and dairy is local," Leavitt said. "Even though the growing season in Michigan isn't long, we can make jams and things from the food we get."
To help Leavitt make connections with local farmers and food companies, she often sells Sweet Heather Anne goods at the Ann Arbor Farmers Market. She has also worked with the organic Tantré Farm in Chelsea, and Eat Local Eat Natural, which connects local farmers and restaurants.
While the bakery is open to the public by appointment only, Leavitt said she is working "constantly" and likes being based in Ann Arbor.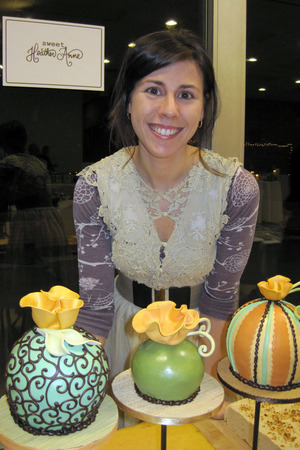 Photo by Olivia May
"Originally, when I got the space I am in right now, I thought it would be a good transition and I would try and start up in Ann Arbor and then maybe move to a larger city," Leavitt said. "But it seems like there is a market here for what I am doing."
While Leavitt said she works on a lot of birthday cakes, in order to expand her already growing business, she would like to focus more on wedding cakes because she likes the "process and design" involved with weddings.
Leavitt said she felt more prepared to work on these intricate cake designs because her experience with sculptures and three-dimensional artwork as a U-M student helped to train her to work with food.
"After going to Italy while I was a student I got really interested in local food," Leavitt said. "Before Italy, I was focusing on industrial design, and afterward, I started focusing on sculpture stuff and started making cakes in art school as statement pieces for galleries."
For a senior project, Leavitt said she visited different local farms to work for a day. Then, she made cakes to honor the different farmers and displayed them.
After graduating from U-M in 2007, Leavitt took this passion for food and worked at eve the restaurant and with Courtney Clark of Cake Nouveau, both located in Kerrytown at the time. After a couple of years, she switched to working part time and began developing her own business.
While Leavitt said she works long hours doing labor-intensive work, she said all the hard work pays off when she finishes a special cake.
"There's a lot of challenge to what I do, but I really love finishing cakes and hearing back from people about what it meant to them at their celebration," Leavitt said. "Usually these cakes are for a really special moment in people's lives, and it's great to be a part of that."
Lizzy Alfs is a freelance reporter for AnnArbor.com. Reach the business news desk at business@annarbor.com or 734-623-2586.