Posted on
Mon, Apr 29, 2013 : 2:55 p.m.
U-M alumni plan to open craft beer bar near campus in June
By Lizzy Alfs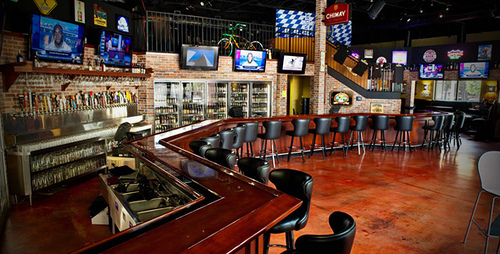 Courtesy photo
University of Michigan alumni
Steve Rossi
and
Chad Wilson
plan to bring hundreds of different craft beer varieties to Ann Arbor's South University bar scene this summer.
The duo are preparing to open World of Beer, a Florida-based bar franchise and live music venue, on the first-floor of the Landmark student high-rise in June.
The 3,200-square-foot space on the southeast corner of South Univeristy and South Forest is under construction, and it will have a long bar, patio seating with garage doors, a stage for live music, and flat-screen televisions visible from every seat in the bar.
There will be 40 rotating drafts, more than 500 bottled beer varieties, and a small selection of wine and craft liquors. Eventually, World of Beer plans to offer a limited food menu.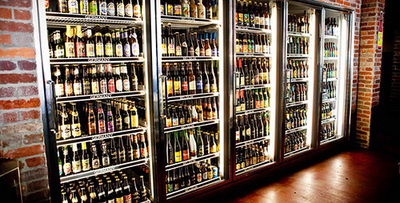 Courtesy photo
"Ann Arbor is an ideal location because we're both Michigan guys," said franchise co-owner Chad Wilson. "We both went to U-M, we both love the university and love the town, so it was an easy choice for us."
Wilson's business partner, Steve Rossi, started his restaurant career at The Brown Jug when he was a junior at U-M. After joining World of Beer, he and Wilson purchased the franchise rights for World of Beer in the state of Michigan. They plan to open six locations in the next three years, with Ann Arbor leading the way.
"I think back to my time as a student here in the late 1980s, and craft beer was already something of a novelty in Ann Arbor, a little bit ahead of its time," Rossi said. "I remember going to Full Moon (which served craft beer) when I turned 21 years old — from an interest standpoint, this community is very much into craft beer."
Wilson said the bar will carry beer from local brewers who are willing to partner with them, including Jolly Pumpkin and Arbor Brewing Company. It will also have beer from popular Michigan breweries like Bell's and Founders. Average beer prices are between $5 and $8.
"We educate people on beer," Wilson said. "We want to take someone who drinks Bud Light and give them something similar to it that's still a craft beer."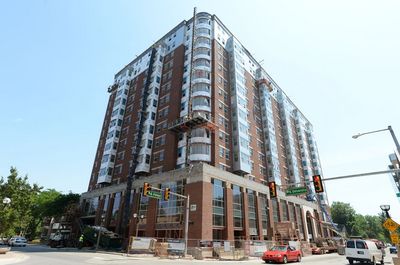 Melanie Maxwell | AnnArbor.com
Nationally, craft beer sales
continue to accelerate
. The industry has shown steady growth for years, accounting for 6.5 percent of total U.S. beer market volume in 2012, up from 5.7 percent in 2011 and 4.9 percent in 2010, according to statistics from the
Brewers Association
.
Downtown Ann Arbor has a number of craft breweries and several bars that offer extensive craft beer varieties.
Rossi said one thing that makes World of Beer unique is its tech savvy loyalty program. Customers can download the free World of Beer application and earn points for different beers they order. It also sorts the menu into different categories, making it easy to find a new beer to try.
"We're trying to create our unique place," Wilson said.
World of Beer is still hiring, and all servers go through a 2.5 week "beer school" program. (Find the application online.)
World of Beer's tentative hours are noon to 2 a.m. seven days a week. There will be live music Thursday through Saturday. Discounts will be offered on certain days of the week for service industry employees, loyalty members and university students and faculty.
World of Beer is the final retail tenant on the first-floor of Landmark, which was listed for lease with Ann Arbor's Colliers International for an annual $45 per square foot. The tenant lineup in the 14-story apartment building: 7-Eleven, Tim Hortons, No Thai! and World of Beer.
Lizzy Alfs is a business reporter for AnnArbor.com. Reach her at 734-623-2584 or email her at lizzyalfs@annarbor.com. Follow her on Twitter at http://twitter.com/lizzyalfs.