Posted on
Fri, Oct 7, 2011 : 11:55 a.m.
U-M economist cuts Michigan jobs forecast in half for 2012
By Lizzy Alfs
University of Michigan economist George Fulton is predicting slow job growth in Michigan in 2012, as he cut his April jobs forecast nearly in half this week.
Fulton expects job gains of 33,000 during 2012, down from his previous estimate of 61,500.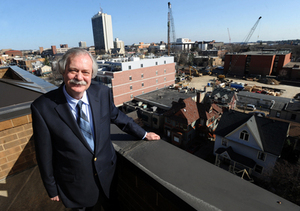 Melanie Maxwell | AnnArbor.com
For 2011, Fulton lowered his job gains forecast by 3,400, predicting a total of 61,200 new jobs. The largest job gains are in the service industries, led by health, professional and business services, with jobs in the government sector continuing to shrink, he said.
Fulton pointed to a temporary surge in employment in the beginning of 2011, with job growth in the final three months of the year "coming in close to zero."
"The Michigan economy is continuing its recovery since its rise from the bottom in late 2009," according to the forecast, "but it has not been a smooth climb, especially during 2011."
Fulton's prediction for the state is similar to his March 2011 forecast for Washtenaw County.
In his annual "Economic Outlook Report for Washtenaw County" in March, Fulton said job growth in Washtenaw County started in late 2009 and its momentum will gradually increase through 2011.
The gradual pace means that Washtenaw County will still have fewer jobs in 2012 than in 2008.
Although the recovery is slow, Fulton said it's supported by "steadily rising vehicle sales and an improved U.S. economy over the next two years."
Fulton's forecast comes after Gov. Rick Snyder's recent tax reforms, which are intended to spike job growth. The reforms replace the controversial Michigan Business Tax with a 6 percent corporate income tax that exempts most small businesses, equaling a $1.7 billion tax cut.
The forecast gives no indication as to how Snyder's tax cuts could affect the economy
Lizzy Alfs is a business reporter for AnnArbor.com. Reach her at 734-623-2584 or email her at lizzyalfs@annarbor.com. Follow her on Twitter at http://twitter.com/lizzyalfs.