Posted on
Thu, Jul 11, 2013 : 2:02 p.m.
U-M researchers turn to crowdfunding for new plasma satellite engine
By Ben Freed
University of Michigan researchers are turning to the crowdfunding website Kickstarter to raise money for a new and innovative engine for small satellites, according to a report in the Ann Arbor Journal.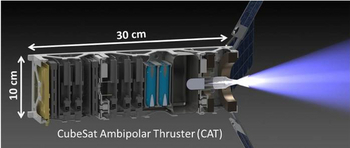 From Kickstarter page
The U-M scientists are hoping to make a plasma thruster that will help bread loaf-sized satellites called
CubeSats
break free of Earth's orbit and set off into deep space. The
Kickstarter campaign
started on July 4 and has raised nearly $22,000 of the $200,000 goal as of Thursday afternoon.
According to the Kickstarter page, the satellites could be used to gather data on asteroids or look for signs of life on the moons of Saturn and Jupiter. Individuals who donate more than $60 will have their name etched on a gold plate that will be sent out on the satellites and those who donate more than $100 can compose a Twitter-length message to send into space.
According to the journal report, the satellites are currently dumped into Earth's orbit by other rockets but do not have the propulsion power to take themselves into deep space. The new engines would utilize liquids heated to plasma state to develop the necessary thrust.
Ben Freed covers business for AnnArbor.com. You can sign up here to receive Business Review updates every week. Get in touch with Ben at 734-623-2528 or email him at benfreed@annarbor.com. Follow him on twitter @BFreedinA2