Posted on
Sat, Nov 7, 2009 : 1:10 a.m.
U-M spinoff lands $36 million in venture capital
By Nathan Bomey
Gary Glick is convinced: Innovative technology will attract investors, regardless of geographical disadvantages.
His faith produced dividends in April when his University of Michigan spinoff company, Lycera Corp., landed $36 million in venture capital. The investment, Michigan's biggest VC deal since 2007, won the "Banking & Finance" award at AnnArbor.com Business Review's 2009 Deals of the Year ceremony.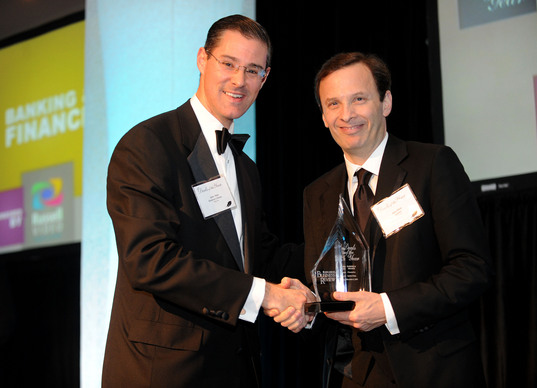 Angela Cesere
The financial backing provides plenty of runway for the drug discovery firm, which is developing therapies to treat various immune diseases.
"It provides over three years of funding that will allow us to take several compounds in our programs to proof-of-concept clinical trials," said Glick, U-M scientist and Lycera founder. "To be able to get that money in this time and to be able to ride out whatever's ahead is invaluable."
Lycera secured the financing from three outside investment firms - InterWest Partners, Clarus Ventures and ARCH Venture Partners - in addition to Ann Arbor-based EDF Ventures.
EDF, which led early-stage seed financing for Lycera in late 2006, played an instrumental role in Lycera's inception.
Many tech companies often complain that coastal investors don't pay much attention to Midwestern technology.
"I don't believe in regional issues," Glick said. "I believe that good technology and good people will be recognized, and there's good people and good technology here."
Lycera's financing was crucial to its product development plan, but the company flirted with leaving Michigan before signing a deal to move into incubator space at the Michigan Life Science Innovation Center in Plymouth.
Ann Arbor scientist Roger Newton collaborated with Ann Arbor SPARK, the Michigan Economic Development Corp. and Wayne County officials to acquire the space.
Glick has said his company would have left Michigan if not for the Michigan Life Science Innovation Center. The 57,518-square-foot incubator is about 60 percent full. Officials collaborated to buy the building from Pfizer for $3.5 million after the pharmaceutical giant announced in 2007 that it would leave the Ann Arbor region.
"Without that, Lycera would not have been in Michigan," Glick said earlier this year. "There's no question. We would not have stayed here."
The venture capital financing is the biggest deal in Michigan since Ann Arbor-based QuatRx Pharmaceuticals secured $44 million in 2007. That money has led QuatRx to clinical successes that have placed the firm on the doorstep of commercialization for its top drug candidate.
Lycera's $36 million topped NanoBio's $22 million in 2009 and Esperion's $22.75 million in 2008.
"That's quite a staggering sum of money given the current environment, but I think it probably speaks to the high value of their R&D pipeline," said Stephen Rapundalo, executive director of Ann Arbor-based MichBio, the state's life sciences association.
Glick said that the clinical success of QuatRx and NanoBio, for example, illustrates the power of great local technology to attract investments.
"They're getting to the point where their technologies are coming to fruition, to the point where partners and exits are available," Glick said.
Contact AnnArbor.com's Nathan Bomey at (734) 623-2587 or nathanbomey@annarbor.com.
Banking & Finance Sector Nominees: NanoBio: The Ann Arbor-based biotech firm secured $22 million in venture capital in 2009 to continue developing its revolutionary nanotechnology. The latest round of funding brings the University of Michigan spinoff's total to $90 million since Jim Baker started the company in 2000. NanoBio's technology may eventually offer a more efficient way for doctors to deliver various therapies to patients.
Local microloan collaborative: Several groups collaborated to create four microloan programs collectively worth $1.5 million to boost early-stage entrepreneurial efforts in Washtenaw County. The funds fill a critical need for entrepreneurs at an early stage of company development. Among those contributing to the microloan initiative were: Ann Arbor SPARK, Washtenaw County, the Center for Empowerment and Economic Development, the Michigan Economic Development Corp. and the Ann Arbor-Ypsilanti Local Development Financing Authority board.