Posted on
Thu, Dec 22, 2011 : 5:58 a.m.
U-M Health System to consolidate Ypsilanti ophthalmology offices in expansion
By Tom Perkins
The University of Michigan Health System's Ypsilanti ophthalmology practices will consolidate under one roof in a $650,000 project that will significantly expand the operation's capacity.
Currently, the system's comprehensive and pediatric Ypsilanti ophthalmology offices are in two separate buildings. The new center, at 1974 North Huron River Drive, will also include an optometrist's office.
The announcement of the expansion comes less than two years after the opening of the expanded Kellogg Eye Center in Ann Arbor.
Dr. Michael Smith-Wheelock said the move will allow to boost its capacity to serve more patients.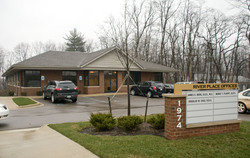 Tom Perkins | For AnnArbor.com
He estimates the comprehensive ophthalmology office serves about 7,200 patients annually while the pediatric center serves an additional 3,500. With the expansion, Smith-Wheelock expects that number to increase by 50 percent over five years, which will help address new demand from the baby boomer population.
"Demand is actually growing everywhere because of aging of baby boomer population," he said. "Many of our patients tend to be seniors and that demographic is growing quite a bit and will continue to grow over the next 20 years."
The current offices offer primary eye care and can treat patients who are complaining about blurred vision, eye pain, have concerns about diseases like glaucoma and much more. If a severe issue requires the care of a sub-specialist, the patient is sent to Kellogg.
In addition to the expanded ophthalmologic services the optometry office will be open five days a week instead of three.
The expansion will mean the center can add one more full-time pediatric doctor, and demand is always great for pediatric ophthalmology services, Smith-Wheelock said.
"There never seems to be enough pediatric care in the area," he said. "There's always a backlog and a wait that's a much longer time than we and parents would like. Having that increased capacity will help us see more kids in a more timely fashion."
Smith-Wheelock said the 7,400-square-foot office was chosen because of its proximity to the two current centers at 4870 Clark Road and in the Reichart Building on Saint Joseph Mercy Health System's Superior Township hospital campus.
Tom Perkins is a freelance reporter for AnnArbor.com.