Posted on
Thu, Apr 18, 2013 : 5:11 a.m.
UAW-Ford, United Way team up to build ramp for area resident's home
By AnnArbor.com Staff
A team of Ann Arbor area UAW-Ford workers — Tom Kanitz, Richard Valko, Jason Schiffman, Brian Brandvold, Ron Valko and Shane Herrell — working in cooperation with United Way, through the UAW-Ford Community Service project, built a ramp at the home of Janet and Paul Cook.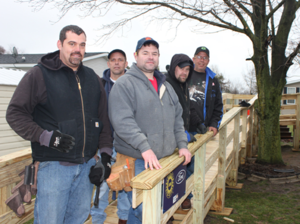 photo courtesy of United Way
This project was coordinated and staffed by UAW-Ford, under the direction of UAW Vice President Jimmy Settles.
"It's great to lend a hand to help make someone's life better," said Herrell. "The reward is in making a better community, and seeing the smile on someone's face when they get in and out of their home unassisted."
Anyone in the area who needs a ramp to make a home more accessible may contact Sheila Pedersen at 734-971-8200 for an evaluation for a ramp project.
Sign up for the weekly Business Review email newsletter here.