Posted on
Sun, May 12, 2013 : 5:59 a.m.
U-M Health System has some of the highest charges in the state, but patients rarely face them
By Amy Biolchini
The University of Michigan Health System has some of the highest hospital charges in the state, according to a set of new data released by the federal government this week.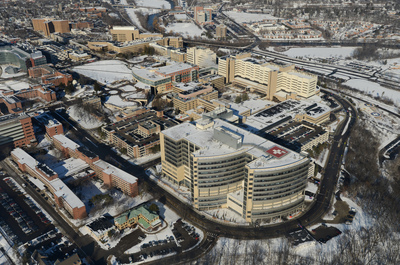 Melanie Maxwell | AnnArbor.com file photo
But that doesn't mean patients or their insurance companies are paying those charges. Both Medicare and most commercial insurance reimbursements are calculated using formulas that don't factor in the charges. Patients then pay whatever's left after the insurance or Medicare payments.
The federal government's Center for Medicare & Medicaid Services attempted to shed light on hospitals' charges by releasing a massive data set on average figures from Medicare patient data.
The data is available under provisions in the Patient Protection and Affordable Care Act of 2010.
Experts contend that the data can't be taken at face value, and doesn't help consumers in making decisions on where to go for health care as it doesn't include hospital quality and safety considerations.
However, the data does add to the national dialogue on the practice of hospitals tabulating charges when they're typically irrelevant to everyone except the most vulnerable patient: The uninsured.
The charges, which continue to rise each year, have become out of touch with the costs that a hospital actually incurs for procedures, officials contend.
The numbers
The newly released data averages charges from hospitals across the country for a set of top 100 inpatient diagnoses in Medicare patients from 2011.
In Michigan, the most expensive hospital charge is for ventilator support for 96 hours or more at the University of Michigan Health System: $203,249. That's about $70,000 more than the second-highest charge at a Michigan hospital for the procedure - which can be found at William Beaumont Hospital in Royal Oak, where $134,511 is the charge.
Just a few miles away from UMHS's Ann Arbor campus at St. Joseph Mercy Hospital in Superior Township, the charge is $119,767 for the same procedure.
And the lowest charge in the state for ventilator support — $41,199 — is at Garden City Hospital in Garden City.
The disparity between hospital charges is strikingly evident across the board.
For small and large bowel procedures, UMHS also ranks at the top of the pack in Michigan with a charge of $188,881 — about $40,000 more than the hospital with the second-highest charge for the category, which is Sinai-Grace Hospital in Detroit.
St. Joseph Mercy Ann Arbor charges $96,349 for the procedure. The lowest charge in the state is $39,838 at Marquette General Hospital.
For pneumonia treatment, Karmanos Cancer Center in Detroit has the highest charge at $24,466, and Mecosta County Medical Center in Big Rapids has the lowest charge at $6,172.
Here's what hospitals in Washtenaw County list as charges for pneumonia treatment:
UMHS: $21,888
St. Joseph Mercy Hospital: $14,498
Chelsea Community Hospital: $8,856
Here are hospital charges from Washtenaw County facilities for joint replacement:
UMHS: $40,588
St. Joseph Mercy Hospital: $36,266
Chelsea Community Hospital: $24,649
The most expensive charges in the state for joint replacement are at Detroit Receiving Hospital and University Health Center in Detroit at $63,590, and the least expensive is a $17,752 charge at Tawas St. Joseph Hospital in Tawas City.
UMHS is at the national average for hospital charges, said Chief Financial Officer Paul Castillo, plus or minus several percentage points.
Courtesy photo
"The University of Michigan Health System has a very reasonable profile compared to the national average," Castillo said. "If I were comparing us to other academic medical centers, we would be well below the national average. … We should be compared against national academic medical centers."
Hospitals all have very different contexts and burdens, Castillo said, citing teaching costs, the number of uninsured and poor patients they serve, as well as the degree to which the patients who are arrive are sick.
"Clearly U-M has a different mission than most," said Rick Murdock, executive director of the Michigan Association of Health Plans.
Murdock explained the teaching facility status of UMHS, and the referral system that brings in sicker patients for treatment alters its cost structure.
The figures are not useful or relevant for most consumers, said Marianne Udow-Phillips, director of the Center for Healthcare Research & Transformation.
"It's a little misleading," she said. "If you have health insurance, you're not going to face charges or even the total payment."
The more relevant question is quality, Udow-Phillips said.
"It's a very small slice of a picture," Udow-Phillips said. "It doesn't help consumers to figure out where the value is. … As a consumer, you want to know where you're going to be treated with the most effective outcomes."
Reimbursements
In addition to having some of the highest hospital charges in Michigan, UMHS also has one of the highest Medicare reimbursement rates in the state, according to the government's data.
But, they're not directly correlated.
The reimbursement rate for Medicare and for most commercial insurers— including Blue Cross Blue Shield, which insures about 70 percent of patients with private insurance in Michigan — is calculated on a formula independent of hospital charges, Udow-Phillips said.

Courtesy photo
For some smaller rural hospitals with limited services, hospital charges are used to calculate reimbursement rates, Udow-Phillips said.
Medicare's formula has a series of metrics used to determine reimbursement. There's a base payment established by Medicare for each type of diagnosis, which is adjusted based on the average wage.
Ann Arbor's base Medicare reimbursement is at the national average, Castillo said, putting it higher than the base reimbursement that Detroit hospitals receive.
Hospitals qualify for more Medicare reimbursement if they treat a disproportionally larger share of the population that's not able to pay for health care.
UMHS qualifies in that case, Castillo said, which garners UMHS an additional 17 percent more than the base reimbursement.
UMHS' status as a teaching hospital also guarantees an additional 37 percent more reimbursement, Castillo said.
"To the extent that you treat a disproportionally higher poor population, and to the extent that you're a teaching hospital, you'll get Medicare support for those activities," Castillo said.
Even with the combined 54 percent increase from the base payment for Medicare reimbursements, the figure only covers about 90 percent of the hospital's cost for the service, Castillo said — meaning UMHS loses money on Medicare patients.
The Medicare reimbursement is typically less than that of private insurers, Castillo said.
However, the Medicare system does pay more to hospitals for specific patients that are considered to be outliers — in essence, sicker patients who require more than a standard routine of care for a diagnosis.
As UMHS receives a high number of referrals of patients who are the "sickest of the sick," Castillo said UMHS does receive those additional surplus payments from Medicare.
Charges
A hospital's charges for a procedure are the same across the board — no matter if the patients are uninsured, under private insurance or on a federal, state or local program.
However, charges don't reflect what the hospital's actual cost is to perform the service.
"Over the years, the charge structure has simply tried to keep it moving at the rate of inflation (in the health care market)," Castillo said. "The charges have less relevance to what (hospitals) get paid, but we continue to inflate them."
It's a practice conducted at hospitals across the country.
For UMHS, Castillo said the charge is about double the cost of the service.
"Charges (have) largely lost (their) relevance in the health care world, because what we get paid will be determined by Medicare and by commercial insurers," Castillo said.
About 30 years ago, charges were used by many insurance companies to determine patient deductibles and premiums — which changed during the last wave of health care reform under President Bill Clinton's administration, Udow-Phillips said.
Those that do face the charges — which tend to increase annually, based on hospital market rates — are the uninsured.
Cost-shifting
Patients without health insurance may not pay their medical bills, leaving hospitals with uncompensated costs they must find ways to cover.
Courtesy photo
In 2011, UMHS provided
$197 million in uncompensated care
— a figure that includes unpaid patient debts, as well as the gap between state and federal health plan reimbursements and the cost of care.
Those uncompensated costs can work themselves in to consumer insurance premiums, leaving patients paying for their insurance to help foot the bill of the uninsured.
"This continues to be a part of our whole cost-shifting issues that we have with different providers," Murdock said. "There's definitely uncompensated care costs — those are paid for by premiums in private insurance."
An analysis conducted by CHRT found that one percent of the expense of a private insurance premium is due to hospitals' uncompensated care costs, Udow-Phillips said.
Murdock said the real question is if those costs are being fairly shifted to each insurance provider.
As hospitals continue to increase their charges year after year in accordance with the market, the problem is that the uninsured patient is saddled with an inflated debt, Murdock said.
"We should focus on why we have these charges," Udow-Phillips said. "The only people that get billed these ... amounts (are) the uninsured — and that's wrong."
Amy Biolchini covers Washtenaw County, health and environmental issues for AnnArbor.com. Reach her at (734) 623-2552, amybiolchini@annarbor.com or on Twitter.