Posted on
Mon, Jan 18, 2010 : 5:58 a.m.
Underground Printing follows Steve & Barry's - but not too closely
By James Briggs
An Ann Arbor screen printer-turned-retailer is following in the footsteps of Steve & Barry's University Sportswear - well, at least the early footsteps.
Underground Printing has expanded beyond its roots as a garage-based printer, blossoming into a thriving retailer with 11 locations. The retail stores mostly are concentrated in Big Ten cities like Lansing, Bloomington, Ind., and Madison, Wisc., along with a 32,000-square-foot production facility on the west side of Ann Arbor.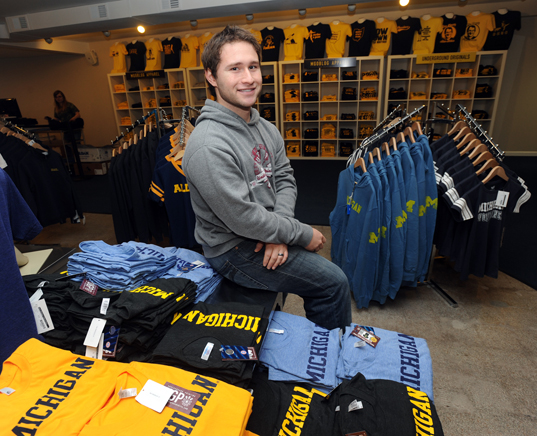 Lon Horwedel | AnnArbor.com
While the rise of Underground Printing looks strikingly similar to the early days of Steve & Barry's, Underground Printing co-owners Rishi Narayan and Ryan Gregg say they won't repeat the tragic mistakes that led to the now-defunct retailer's quick fall.
Steve & Barry's, launched by childhood friends in 1985 (co-founder Barry Prevor was still an undergraduate student at the University of Pennsylvania), opened stores across the Big Ten region during the 1990s, selling college-themed merchandise at prices even cash-strapped students could afford.
Steve & Barry's hip - and cheap - offerings came to be adored, especially in Ann Arbor, where the retailer catered to University of Michigan students in its campus-friendly State Street location. Back in the '90s, college students had a word for Steve & Barry's: cool.
"Steve & Barry's was the champion of students," Narayan said. "When I was a student, Steve & Barry's was the place where I went."
Then Steve & Barry's - and its founders - grew up.
Moving beyond the college market, Steve & Barry's opened its first mall location at Auburn Hills-based Great Lakes Crossing in 1998. A few years - and 3.5 million square feet of retail shopping space - later, Steve & Barry's signed endorsement deals with celebrities and dropped University Sportswear from its name.
At the same time, the retailer plunged hundreds of millions of dollars into debt, and it went tumbling toward bankruptcy. These days, the college kids have another word for Steve & Barry's: failure.

"For whatever reason, their growth was too fast, or their model was not as solid as it should have been," Narayan said. "It was a noble idea - selling name-brand shoes sponsored by name-brand athletes for cheap. But something wasn't right, and obviously I don't know enough about the business to speculate. What I do know is when they were concentrating on the niche they grew up in, they were doing well."
Underground Printing is the new Steve & Barry's - minus, so far, the doomed spiral toward bankruptcy. Locally, it has moved from a 200-squre-foot space to a new 4,000-square-foot location at 1114 S. University, where it sells unique U-M apparel.
"When Steve & Barry's started having troubles, and started shutting down stores, we felt this was a time we could get into this niche," Narayan said. "We felt that was an important factor in us moving forward to connecting with younger alumni and students, the kind of niche that had grown up on Steve & Barry's, or were feeling the void from Steve & Barry's being gone.
"We even looked at Steve & Barry's (vacated location at 303 S. State St.), but when it was all said and done, we grew up on South (University) as college students, and we felt like South U. was the place where we wanted to be."
Underground Printing sells Ann Arbor-designed apparel, including shirts from MGoBlog.com, a blog covering Michigan sports. Brian Cook, the blog's founder, said T-shirt sales, once only available online, now account for about 20 percent of his blog's revenue.
"They were local, and I talked to Rishi about it over lunch, and it was just an awesome fit," Cook said. "They've been great, because they've put the shirts in their retail space. If you live in town, you don't have to pay shipping costs."
Childhood friends Narayan and Gregg, who grew up together near Lansing, launched Underground Printing in 2001, when they were sophomores at Michigan. Underground Printing actually was their second business. They previously ran a loft-building company, until they grew weary of the labor.
The idea for Underground Printing came to Narayan on a seemingly misfortunate day. His car broke down on a drive to Lansing, but the tow truck driver who responded to the call had owned a screen-printing company in the 1980s. Narayan and Gregg soon began using the driver's old equipment "in his garage, next to a broken-down Chevy," Narayan said.
"We became engrossed in the business, started doing sales and spent all our time there," Narayan said.
Having achieved remarkable success since those days in the garage, Narayan and Gregg hit the brakes in 2009, fearing a similar trajectory to Steve & Barry's. After opening four new stores in 2007 and five in 2008, Underground Printing did not open a new location in 2009.
Underground Printing has its sights set on locations near Iowa and Penn State universities, but the company also wants to take a measured approach to expansion, Narayan said.
"We still have stores we want to get to," he said. "But, whereas in the past we would sacrifice a little to get a store open, we took a page out of a lot of successful companies' books. We're waiting for that perfect store at Iowa, at Kentucky, at Penn State. Until we get that store, we're happy where we're at.
"We've been able to go back, analyze what makes us good and retool what we need to so when 2010 comes, we can (expand)."
If Underground Printing comes to dominate Big Ten Country, it will, in a sense, carry on the original mission of Steve & Barry's - by learning from its mistakes.
But if the company never grows that large, Narayan said, that's OK, too.
"The legacy Steve & Barry's left was important to us," he said. "We need to make sure stores open at the right time, in the right way. I think maybe that's a lesson Steve & Barry's forgot."