Posted on
Thu, Jul 22, 2010 : 12:29 p.m.
Unemployment benefits extension bill may become law today
By Ann Dwyer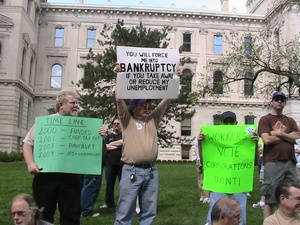 Photo by Flickr user aflcio
MLive.com is reporting that U.S. House of Representatives will send the unemployment extension bill to President Obama today. The bill would reinstate the unemployment benefits of more than 2.3 million people.

As stated in the article: "The Senate passed the measure yesterday evening after weeks-long partisan wrangling between Republicans, who wanted the cost of the bill offset, and Democrats, who considered the measure emergency spending not subject to pay-go rules. The bill will add about $33 billion to the federal deficit."
Click here to read about the bill and important changes within it.