Posted on
Mon, Mar 29, 2010 : 10:32 a.m.
University of Michigan broadens research relationship with Chinese university tied to cyber attacks
By Nathan Bomey
The University of Michigan plans to pursue advancements in biomedical and alternative energy technologies in partnership with researchers from the Chinese university that's been linked to global cyber attacks.
U-M announced today that it would launch a joint research project with its longtime partner, Shanghai Jiao Tong University, to pursue advancements in biotechnology and renewable energy. Each university will contribute $3 million over five years to the project.
Stephen Forrest, U-M's vice president for research, said the research collaboration could lead to important technological advancements that would benefit both entities.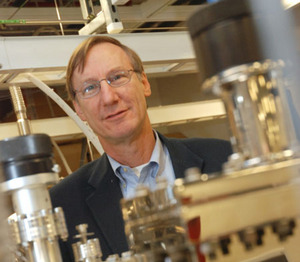 File photo | AnnArbor.com
The move comes as SJTU finds itself under intense scrutiny after U.S. investigators reportedly traced cyber attacks back to computers at SJTU and another school in China. The attacks led to security breaches at several American companies, including Google, which last week announced it would shutter its China-based search engine in protest.
U-M and SJTU in 2005 established their Joint Institute, hastening the interchange of students and faculty members. The institute expanded a partnership that dates back to 1997.
But today's announcement broadens the universities' relationship to include a significant joint research initiative. Until now, the partnership mostly involved professors teaching undergraduate students.
Through the initiative, researchers will pursue clean tech advancements through the Collaborative Research Program in Renewable Energy Science and Technology. Among the areas they'll target: clean coal, alternative powertrain vehicles and energy efficiency in buildings.
"The U.S. and China are the two largest carbon emitters on the planet. We're looking at collaborating to use complementary strengths to solve these problems," Forrest said.

As part of the new research relationship, researchers will also pursue advancements in a variety of life sciences areas, including imaging technology, minimally invasive therapies, nanotechnology, medical devices, neural engineering and medical software.
A focus on electronic medical records technology would mark the first time U-M and SJTU researchers would conduct computer science research together.
"The focus here is really on engineering," U-M spokesman Rick Fitzgerald told AnnArbor.com last month. "It's not computer science programming."
Forrest said the Joint Institute with SJTU may eventually maintain a presence at U-M's North Campus Research Complex, the 2 million-square-foot ex-Pfizer campus U-M acquired for $108 million in 2009.

U-M and SJTU researchers will have to file joint requests to earn grant funding, which will be limited to $200,000 per project.
U-M said it would also leverage the relationship to pursue funding from the new U.S.-China Clean Energy Research Center, a $15 million joint research initiative between the two global economic powers.
"We will be ready to make strong proposals into those programs," Forrest said.
U-M and SJTU in December struck a tentative agreement to conduct biomedical and energy research, according to details of a video conference meeting attended by Forrest and U-M President
Mary Sue Coleman
that
were published online
.
Coleman, who in 2005 received the second honorary degree in SJTU's 115-year history, plans to visit SJTU again this summer.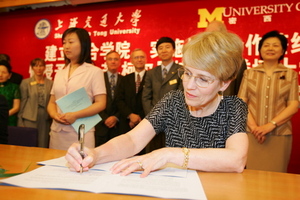 Photo courtesy of University of Michigan
When The New York Times reported in February that
SJTU
computers were implicated in the Google attacks, U-M officials said they wanted to see additional evidence that
SJTU
was involved in the attacks before taking action.
David Munson
, dean of U-M's College of Engineering, which operates the Joint Institute along with SJTU, said last month that he wasn't concerned about the cyber accusations.
"We don't know anything other than what we've read in places like The New York Times, and there isn't any indication that the Joint Institute, which is our initiative over there, is involved in any way," Munson said. "There isn't any reason to believe that our relationship would be affected."
SJTU, which has more than 30,000 full-time students, is a sprawling university with a broad range of expertise and initiatives. Some 160 SJTU students are currently studying at U-M in Ann Arbor through the Joint Institute. About 50 SJTU students had received U-M degrees as of 2005.
Contact AnnArbor.com's Nathan Bomey at (734) 623-2587 or nathanbomey@annarbor.com or follow him on Twitter. You can also subscribe to AnnArbor.com Business Review's weekly e-newsletter or the upcoming breaking business news e-newsletter.