Posted on
Mon, Apr 26, 2010 : 5:35 p.m.
University of Michigan credit union considers purchase of ex-Ann Arbor News building
By Paula Gardner
A University of Michigan Credit Union official says the not-for-profit financial institution is exploring real estate options - including the purchase of the former Ann Arbor News building in downtown Ann Arbor.
"We have not decided we're purchasing that building," said Jeff Schillag, UMCU's vice president of marketing and community relations. "This is all speculative at this point."
Schillag made the comments Monday after the Ann Arbor Chronicle reported that the credit union was looking for a new home for its administrative offices.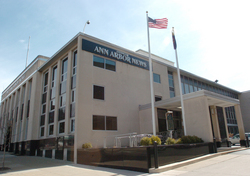 The credit union owns its headquarters at 333 E. William, which is among its seven offices. Six are in the Ann Arbor area, and one is in Dearborn.
"We'll maintain seven offices," Schillag said. And one of those offices would remain the East William office, he said. Unclear is which office could close.
Schillag declined to answer further questions, such as whether the property is under contract, or whether a potential deal could involve a sale to a third party, with a lease-back to the credit union.
He also declined to say what types of strategic factors are going into the credit union's facilities decision.
"This is just something we're trying to look at right now because of market conditions," Schillag said.
The ex-Ann Arbor News building is listed with Colliers International for $9 million. It's owned by Advance Publications, a corporate entity related to AnnArbor.com. Nobody at Advance or any of their representatives would comment for this story, citing confidentiality contracts.
The credit union has assets of $401 million as of Feb. 28. It also employed 129, according to 2008 IRS filings.
The credit union services U-M employees, faculty and staff, Schillag said, but it's not an arm of the university.