Posted on
Wed, May 11, 2011 : 1:25 p.m.
University of Michigan distances itself from Mitt Romney's health care speech
By Nathan Bomey
Likely Republican presidential candidate Mitt Romney picked the University of Michigan Health System as the stage for his major health care reform speech Thursday — but that doesn't mean the university is comfortable with the corresponding political theater.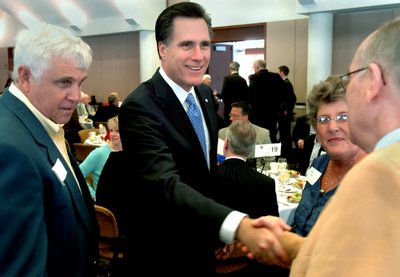 File photo | Grand Rapids Press
The university
issued a statement today
distancing itself from the former Massachusetts governor's invitation-only speech at the
U-M Cardiovascular Center
in Ann Arbor.
"The use of our facility by Gov. Romney does not constitute endorsement of the content of his speech nor of his potential candidacy by the U-M Health System or the University of Michigan," U-M said in a statement. "As a public institution, the University of Michigan cannot endorse candidates."
U-M also emphasized that the speech is being organized and paid for by the U-M chapter of College Republicans "in accordance with guidelines for official student groups that wish to hold events in university facilities."
It was not immediately clear whether any U-M executives plan to attend the speech or meet with former Michigan native Romney, who has been forced to explain his Massachusetts health care reform initiative to conservatives.
In a news release, Romney's team said he plans to propose reforms that would "make healthcare more like a consumer market and less like a government program" by giving states more power to make choices on how to manage Medicaid, providing a tax deduction to workers who purchase their own health insurance and reducing the number of medical malpractice law suits.
Among those who won't be in attendance is Michigan Gov. Rick Snyder. His spokeswoman, Sara Wurfel, said in an e-mail that Romney invited the former Ann Arbor venture capitalist to the event but that the governor can't attend or speak to Romney by phone due to scheduling conflicts.
"He'll hope to connect with him soon," Wurfel said.
During Michigan's 2010 Republican gubernatorial primary, Romney endorsed U.S. Rep. Pete Hoekstra. But after Snyder beat Hoekstra and three other established Republicans in the primary, Romney endorsed Snyder and briefly campaigned for him.
Contact AnnArbor.com's Nathan Bomey at (734) 623-2587 or nathanbomey@annarbor.com. You can also follow him on Twitter or subscribe to AnnArbor.com's newsletters.