Posted on
Sun, Dec 6, 2009 : 6 a.m.
University of Michigan entrepreneurial competition 1,000 Pitches announces winners
By Nathan Bomey
Imagine earplugs with a built-in alarm clock that doesn't wake up your roommates or spouse.
That's the brainchild of University of Michigan freshman Eleanor Pryser, who won the "Global Business" category Saturday night in U-M's second annual 1,000 Pitches competition. Her pitch was one of eight winning ideas honored in the 2-month-long competition, a campus-wide solicitation for entrepreneurial ideas of all kinds.
The competition, organized by MPowered Entrepreneurship, a student organization, drew 2,165 videotaped pitches, more than double its goal.
The student-led competition, supported by a variety of U-M groups and Ann Arbor businesses, aimed to catalyze the spirit of entrepreneurialism among students.
"That entrepreneurship and the entrepreneurial mindset is important and is a valuable tool that is going to make them that much more successful in anything they do," said Lauren Leland, a U-M junior and president of MPowered. "This competition is interactive, fun and engages all of campus. We're pushing widespread the culture of entrepreneurship."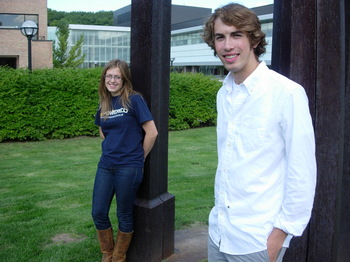 The group has a headstart. About 1 in 10 U-M freshmen have already started a business by the time they get to college, U-M President Mary Sue Coleman has said.
Doug Neal, managing director of U-M's Center for Entrepreneurship, said developing a culture of entrepreneurship among students is critical to Michigan's economic renewal.
"The No. 1 goal is to start this process and get these students into entrepreneurship," Neal said. "The first step in entrepreneurship is recognizing that ideas are important and that everyone's ideas are important."
The winners, announced Saturday night, are:
-Pryser, an engineering major, whose "ear buddies" idea won the "global business" category.
-Tim Lewis, a junior business major, whose idea involves creating a Web site called AnnArborTonight.com. The site would house information about bars, restaurants and other entertainment destinations. Lewis won the "local business category."

-Allen Kim, a junior engineering major, who developed an idea for a Renewable Energy Science Foundation, which would seek tax breaks for clean tech entrepreneurs. He won the "Michigan Matters" category.
-Hannah Selonick, a sophomore engineering major, who came up with an idea for a "vibrating metronome" to help musicians keep track of time while playing an instrument. She won the "high-tech" category.
-Md Shahnoor Amin, an engineering graduate student, who developed an idea for a portable solar-powered device to provide electricity to electronics. He won the "environment" category.
-David Sheng, a junior engineering major, whose idea involves creating a "cheap water condenser kit" to provide clean water for people in the Third World. He won the "social entrepreneurship" category.
-Daniel Forhan, a sophomore engineering student, who believes he can save $40,000 a year for U-M by turning vegetable oil from the university's cafeterias into biodiesel to be used by buses. He won the "green campus" category.
-Liying Huang, a junior business major, who developed an idea for an mobile application that would allow shoppers to scan a product's barcode at a store and get instant coupons. Huang won the "best iPhone app" category.
-Whitney Hovan, a graduate engineering student, led a group whose idea involves creating a medical device that would improve blood-clot removal in stroke victims. The group won the "health" category.
Contact AnnArbor.com's Nathan Bomey at (734) 623-2587 or nathanbomey@annarbor.com. You can also follow him on Twitter.