Posted on
Thu, May 20, 2010 : 1:26 p.m.
University of Michigan lands $4.3M from Department of Energy to develop nuclear energy technologies
By Nathan Bomey
The University of Michigan will receive a $4.3 million injection of funds to pursue new nuclear energy technologies, the U.S. Department of Energy announced this afternoon.
The funding comes through the DOE's Nuclear Energy University Program, which aims to develop next-generation nuclear fuel and reactor technologies. U-M is among 23 lead research universities awarded $38 million through the initiative.
"We are taking action to restart the nuclear industry as part of a broad approach to cut carbon pollution and create new clean energy jobs," U.S. Energy Secretary Steven Chu said in a statement. "These projects will help us develop the nuclear technologies of the future and move our domestic nuclear industry forward."

U-M, which last decade decommissioned its Ford Nuclear Reactor, conducts nuclear energy research through the Michigan Memorial Phoenix Energy Institute. The university boasts a roster of several advanced nuclear energy scientists.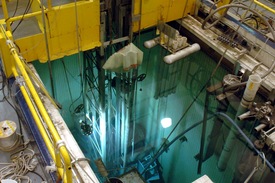 File photo | AnnArbor.com
The university's funding is split into five segments for projects that will take three to four years:

--$1,181,379, $996,581 and $406,712 for separate research projects designed to develop next-generation nuclear reactors. This part of the DOE initiative includes a focus on improving fuel efficiency in nuclear reactors, reducing nuclear waste and researching ways to create smaller nuclear reactors.
--$931,603 to research better ways to store, recycle and dispose of radioactive waste materials.
--$798,943 for "blue sky" projects focusing on futuristic nuclear energy technologies.
"We believe this will help us develop the nuclear technologies of the future and help us move our domestic nuclear energy industry forward," U.S. Deputy Secretary of Energy Daniel Poneman told reporters in a conference call.

The funding marks another major influx of alternative energy research dollars for the university. In 2009, the DOE established an Energy Frontier Research Center at U-M to research new solar energy technologies. The university received a five-year, $19.5 million grant to launch that initiative.

Contact AnnArbor.com's Nathan Bomey at (734) 623-2587 or nathanbomey@annarbor.com. You can also follow him on Twitter or subscribe to AnnArbor.com's newsletters.