Posted on
Sun, Nov 6, 2011 : 5:42 p.m.
University of Michigan nurses approve new contract
By Paula Gardner
Related story: Standoff over: Details on the new University of Michigan nurses contract
About 4,000 nurses ratified a new contract with the University of Michigan Health System, officials at the Ann Arbor-based facility said Sunday.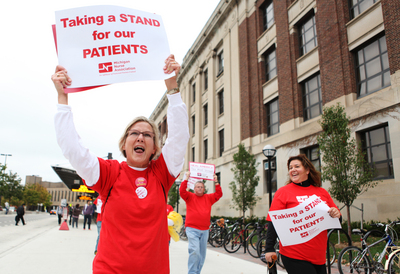 The nurses had been working without a contract since June, with negotiations continuing since then even as the union conducted marches and talked of a strike.
At least 50 negotiation sessions were scheduled, in addition to mediation and fact-finding. The new agreement was reached Oct. 21.
According to U-M, the new contract includes:
a competitive wage program;
a phasing in of changes in health insurance premium changes starting in 2013;
revisions to retirement eligibility in 2014;
some modifications to how overtime pay is calculated;
and a revised extended sick time/PTO program for an overall cost increase to the health system of about 3.5% per year.
Agreements were also reached on numerous other issues, according to U-M.
Voting started on Tuesday and concluded Saturday, according to the University of Michigan Professional Nursing Council. The new contract expires June 30, 2014.