Posted on
Wed, Oct 5, 2011 : 8:55 a.m.
University of Michigan plans to invest in its own startup companies, Mary Sue Coleman says
By Nathan Bomey
(This story has been updated several times with additional information.)
The University of Michigan plans to invest up to $25 million from its endowment in its own startup companies.
The move is a win for the Michigan venture capital industry, which has been lobbying the university to fund entrepreneurial companies for years.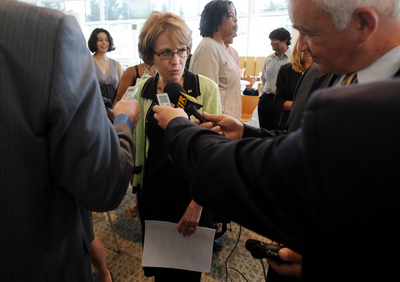 Melanie Maxwell | AnnArbor.com
U-M President
Mary Sue Coleman
said this morning that startups would be eligible to receive up to $500,000 apiece from the university after they've secured venture capital from a separate private source.
For years, local venture capital firms have been asking the university to fund their efforts. U-M didn't do that — but its decision to invest in its own startups benefits local investors because it adds to the pool of capital available to local entrepreneurs.
"Clearly the venture community has been pushing to get the university more engaged for a long time and this is an important step," said venture capitalist Chris Rizik, who directs the Ann Arbor-based Renaissance Venture Capital Fund. "If done right, it can also be a meaningful step."
In her annual address outlining goals for the university, Coleman described the initiative as a smart fiscal move — not a philanthropic endeavor. She said the university's endowment studied the financial performance of U-M spinoff companies over the past 30 years.
"Their analysis shows that if we had, in fact, invested in these startups, the returns would have been healthy, the returns would have been competitive with our VC portfolio," she said. "Simply put, University of Michigan startups are a good financial opportunity."
U-M's endowment was worth $7.8 billion at the end of the 2010-11 fiscal year. That's up 18.2 percent from $6.6 billion on June 30, 2010.
"Annual earnings were impressive," Coleman said. "Our investment team is among the strongest in the country and it shows."
The startup investment initiative comes after a series of major wins for U-M startup companies in recent years. Several Ann Arbor venture capital firms reaped huge returns from those sales.
In 2008, Ann Arbor-based U-M software startup HealthMedia was sold to Johnson & Johnson in a deal believe to be worth around $200 million. In 2009, Pittsfield Township-based U-M medical device startup HandyLab was sold to Becton, Dickinson and Co. for $275 million.
In 2010, U-M information technology startup Arbor Networks was sold to Tektronix Communications. And in early 2011, Scio Township-based medical device startup Accuri Cytometers was sold to BD for $205 million.
"There have been a number of situations where technology spins out of the university and the external world looking at it really doesn't understand why the university isn't being more supportive" with capital, Rizik said. "This sort of answers that question. If university now supplies the technology but is also putting some of its endowment into the deal, it sends a great message to the world."
The investment program, which the university is calling Michigan Investment in New Technology Startups (MINTS), will launch immediately.
"We will make funds available for these investments because we believe in the work of our researchers and we believe in delivering strong returns on our endowment," Coleman said.
U-M Executive Vice President and Chief Financial Officer Timothy Slottow described the initiative as a "passive investment program" — meaning the university will automatically invest up to $500,000 in its startup companies after they've reached the milestone of securing outside VC dollars.
Slottow said the university's endowment managers are not positioned to evaluate individual investments — which is why U-M startups must secure outside investment before U-M's automatic dollars are delivered.
"Although we are extremely smart and one of the (best performing) investment offices in the country, we cannot choose the winners of startup companies at such an early stage of development," he said. "These are smaller and earlier companies than our portfolio typically invests in, which adds diversification in our portfolio."
For startup companies, a funding guarantee often gives private investors more confidence to kick in capital.
Rizik said the university's initiative could make a big difference for young startups that are struggling to get capital to get off the ground.
"If the university is putting a half a million dollars into a $20 million investment round, it's not really impactful," he said. "But if it is in the early stages, where there is more of a shortage of capital — if it's putting half a million dollars into a million-and-half round — that can be meaningful and can help fill the gap for companies at that stage. We have a lot of companies at that stage."
Startups created by the university have typically licensed intellectual property from the university, which often gets an equity stake or royalty deals in return. U-M's Technology Transfer Office reaps revenues when U-M startups are sold, but the university's equity stake is typically diluted over time as outside investors step in and take on more risk in the startup's development.
The Tech Transfer Office — which is responsible for commercializing intellectual property created by U-M faculty members — spawned 11 startup companies in 2010-11. That was up from 10 in 2009-10 and eight in 2008-09. The office has created 104 startups over the last 11 years.
With the venture capital investment program revealed today, U-M will help create jobs in Michigan, Coleman said, because most U-M startups are based in the state.
In a roundabout way, it's not the first time U-M has invested funds to boost startup companies. The U-M Ross School of Business has three funds, run by students, that invest in startup companies. One of those operations, the Wolverine Venture Fund, reaped $2 million, a six-fold return, from its investment in HandyLab.
Although MINTS is sure to be immediately applauded by some local investors, others will want more — that is, for the university to invest directly in local venture capital firms. U-M's endowment invests millions in private equity and VC operations in operations on the East Coast, West Coast, Europe and Asia.
"From the venture capital community standpoint, this is a first step," Rizik said. "It's probably not 100 percent what the community would want, but it's a good first step."
Contact AnnArbor.com's Nathan Bomey at (734) 623-2587 or nathanbomey@annarbor.com. You can also follow him on Twitter or subscribe to AnnArbor.com's newsletters.