Posted on
Mon, Apr 19, 2010 : 10:15 a.m.
University of Michigan professor C.K. Prahalad, 'world's most influential business thinker,' dead at 68
By Nathan Bomey
University of Michigan business professor C.K. Prahalad, a global leader in management strategy, died Friday night, officials announced. He was 68.
Prahalad was "one of the most beloved teachers and influential thinkers at the University of Michigan," the university said in a press release. He had been a U-M professor since 1977.
In October 2009, leadership consulting firm CrainerDearlove described Prahalad as the "world's most influential business thinker," the university said. It was the second time he had earned that honor.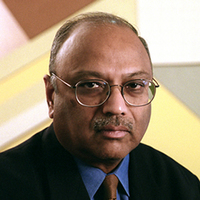 "It's impossible to exaggerate C.K.'s impact on business and business education around the world," Robert Dolan, dean of the U-M Ross School of Business, said in a statement. "His thinking was far-reaching and commanded the attention of business leaders. I expect it will continue to be influential for a very long time. The passion he had for connecting thought leadership to business practice exemplifies what we are all about as a business school."
>>His death brings a premature end to what was a remarkable and highly productive career. Over the last three decades CK launched radical new ideas which would soon become conventional wisdom.

>>With Yves Doz, in 1987, he produced one of the first successful analyses of the way multinational companies operate in the modern era (in The Multinational Mission ).

>>With his former pupil Gary Hamel, in the early 1990s, he developed the now unexceptional concept of "core competencies" (in Competing for the Future, 1994). With Venkat Ramaswamy, in 2004, he explained how the new world of interconnected business was transforming the way companies had to deal with their customers, a process they called "co-creation" (in The future of Competition .

>>And perhaps most significantly of all, also in 2004, he published The Fortune at the Bottom of the Pyramid , a book that challenged global business to consider serving the billions of people earning only a few dollars a day. In fast-developing markets all around the world, CK's doctrine now holds sway. More than any other figure, he has provided a manifesto for how global business might prosper.

Prahalad is survived by his wife, Gayatri; son, Murali Prahalad; daughter, Deepa Prahalad; and three grandchildren. Final viewings will take place Tuesday and Wednesday in San Diego, but the family also plans to organize a memorial service in Ann Arbor within the next few weeks. For more information, see the university's press release.

Contact AnnArbor.com's Nathan Bomey at (734) 623-2587 or nathanbomey@annarbor.com or follow him on Twitter. You can also subscribe to AnnArbor.com Business Review's weekly e-newsletter or the upcoming breaking business news e-newsletter.