Posted on
Fri, Apr 26, 2013 : 5:58 a.m.
Could virtual guidance counselor pay off for U-M venture fund?
By Ben Freed
The University of Michigan has three student-run venture funds, but only one has a mandate to make investments in companies that emphasize social impact as part of their core mission.
The Social Venture Fund recently announced its investment in Mytonomy, a video platform for college and career advising.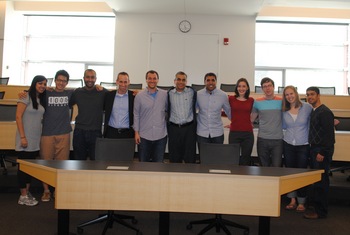 Courtesy Daniel Rosen
The investment is part of a seed round for Mytonomy that also includes well-known social venture funds
NewSchools
and
Kapor Capital
.
"It was important for us to be a part of a round with other reputable investors," project co-lead and first-year MBA student Daniel Rosen said. "And in the education space, these funds are the ones you want to invest with."
Rosen said that partnering with established firms is helpful for the student fund but the students do their own due diligence on the company.
"We speak with advisers, the board of the company, and we try to get a sense of what's happening in the market and what would allow this company to succeed," he said.
"First we have to understand the market conditions, then the company itself. We look at the cash flow, the sales pipeline, how much traction they are gaining and we spend a lot of time talking to the other investors already on board."
Those other investors often have a track record of success and have done their own research into the market and the company. However, the Social Venture Fund has a resource institutional investors often lack: manpower with time on their hands.
"A lot of times they have one person working on a number of deals, but because we're students we have a number of people working on one deal, so we share a lot of the information we gather," he said.
"It's great to be able to both learn from them because they're a bigger and more experienced investor, but also to be able to share our analysis and perspective with them."
The financial valuation of a company is the first and last step for other funds at the business school. As a fund that focuses on companies that can make a social impact, the SVF had more work to do.
"We do a pretty intense social impact evaluation," Rosen said.
"We were a nine-person team and we had two members spend the whole time, a couple of months really, looking at comparable educational interventions and really trying to get a handle on what kind of impact Mytonomy can make on their target audience."
Mytonomy's goal is to help high school students with limited access to top level guidance counselors. The company has built a video-based social platform that aims to connect the students with tutorials and testimonials from both counselors and other students.
The company's video library contains more than 2,600 testimonials in both English and Spanish that connect students to advice on topics that range form the college application process in general to specific colleges, majors and careers. According to a release, guidance councilors often are stretched beyond their capacity and carry an average of caseload of 470 students.
The Social Venture Fund's monetary investment is not large by venture capital standards, the fund and only invest up to $100,000 at a time, but the opportunity of a partnership with the University of Michigan carries its own value for Mytonomy.
"We're particularly excited to engage directly with the Social Venture Fund to tap Ross' cross-disciplinary business students as well as those from the School of Education and College of Engineering to further our mission," Mytonomy CEO and co-founder Vinay Bhargava said in a statement.
Rosen said when the Mytonomy team was in Ann Arbor they met with students and faculty in the school of education in addition to the business school.
"For a startup company to be able to access a resource like that is usually pretty challenging," he said.
"They're interested in getting U-M students and alumni on their platform and getting more involved in the Detroit Public Schools as well."
Mytonomy also plans to have at least one intern from the Ross School of Business work with the company over the summer. Additionally, when the company has strategic decisions to make, teams from the school will use the issues as coursework and help generate new and innovative solutions.
This is the third investment for the Social Venture Fund which was launched by four Ross MBA students in 2009. The fund is housed in the Zell Lurie Institute for Entrepreneurial Studies and is overseen by professor Gautam Kaul.
Ben Freed covers business for AnnArbor.com. You can sign up here to receive Business Review updates every week. Reach out to Ben at 734-623-2528 or email him at benfreed@annarbor.com. Follow him on twitter @BFreedinA2