Posted on
Fri, Feb 4, 2011 : 11:33 a.m.
University of Michigan spinoff Cielo MedSolutions sold in health care records deal
By Nathan Bomey
(This story is being updated.)
A Washington, D.C.-based company that provides a wide range of services to health care companies and other industries said late Thursday that it had purchased Ann Arbor-based health care records startup Cielo MedSolutions.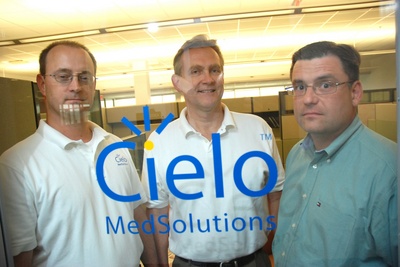 File photo | AnnArbor.com
The Advisory Board Co.
, which is projecting revenue of $318 million to $326 million in 2011, said it
completed its acquisition
of Cielo on Tuesday. Terms of the cash transaction were not released.
Cielo, which spun off from the University of Michigan in 2006 and has about nine employees in Ann Arbor, sells a software application that helps doctors keep track of patient care needs, authorize prescriptions electronically and comply with regulations imposed by payers.
The Advisory Board (NasdaqGS: ABCO), which has about 1,110 full-time employees, delivers services and consulting to a network of some 3,000 member organizations such as hospitals and health systems. The company has a market capitalization of $761 million.
Investors in Cielo included Ann Arbor-based nonprofit Altarum Institute, Oakland County-based Automation Alley and the Michigan Pre-Seed Capital Fund, a statewide investment vehicle managed by Ann Arbor SPARK.
The acquisition can be viewed as an endorsement of Cielo's primary product, called Cielo Clinic, which is particularly important because the health care records industry has been overwhelmed with various software solutions.
In a flooded market, doctors sometimes hesitate to adopt electronic medical records technology for fear of making a costly mistake.
But The Advisory Board has the financial muscle and is well positioned in the health care industry to pursue customers. The company plans to take Cielo's software and combine it with an existing application it provides, called Crimson.
"We are very excited about the acquisition and the opportunities to incorporate Cielo into our work," said Robert Musslewhite, CEO of The Advisory Board, in a statement. "Hospitals and physicians look to us as their solution for physician performance, and since patient registry is a key tool that they use, the addition of this functionality to our portfolio will greatly enhance our ability to serve member needs in this terrain."
It was not immediately clear how the acquisition would affect Cielo's office on Green Road on Ann Arbor's north side, but Cielo CEO David Morin said in the news release: "I—along with the entire Cielo team—am thrilled to join forces with the Advisory Board to enhance our impact on physician practice across care settings. We are excited about the large market opportunity ahead of us and the new ways we will work together to help members provide greater value in patient care."
The deal comes less than three months after Cielo received a $1.3 million federal grant to coordinate with the U-M Health System to develop a web-based clinical management program. That new system, which will be based on the company's Cielo Clinic product, will be tailored with input from primary care physicians.
Skip Simms, interim CEO of Ann Arbor SPARK, credited Cielo's leadership for the company's success.
"As is in the case in all good investments, you've got a good management team and I think David proved himself to be a very good not just manager and operator but a good entrepreneur who stuck through the tough times and the challenging times that the company went through, who worked hard and did what was necessary to make the company successful," Simms said.
Contact AnnArbor.com's Nathan Bomey at (734) 623-2587 or nathanbomey@annarbor.com. You can also follow him on Twitter or subscribe to AnnArbor.com's newsletters.