Posted on
Thu, Nov 5, 2009 : 5:59 a.m.
University of Michigan strikes deal to establish permanent student business incubator
By Nathan Bomey
Student startups are sizzling at the University of Michigan.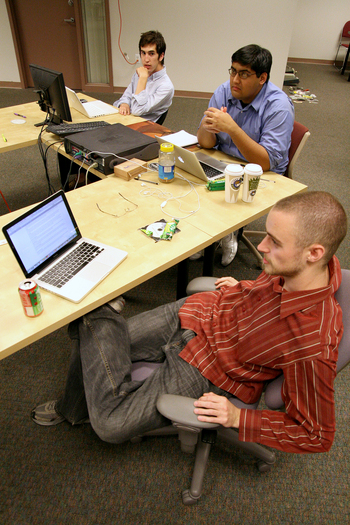 Photo by Melanie Maxwell | AnnArbor.com
That's why various university officials have collaborated to create a permanent business incubator designed specifically for student-led companies and some other startups affiliated with the university.
The incubator, officially called TechArb, follows a four-month experiment this summer in which student-led tech companies thrived at temporary office space on Washington Street in downtown Ann Arbor.
"It's a breeding ground of ideas essentially," said Dylan Imre, a U-M student and co-founder of Ann Arbor startup CrowdClarity.
The U-M Center for Entrepreneurship, part of the College of Engineering, has collaborated with various partners to establish the new business accelerator. The university is finalizing details of an agreement to house the incubator in a 2,600-square-foot office at McKinley Inc.'s McKinley Towne Centre in downtown Ann Arbor. TechArb will be nestled into space on the fourth floor between Internet giant Google and economic development group Ann Arbor SPARK.
"More and more students and entrepreneurs in the community are coming together and needing something like this," said Doug Neal, CFE's new managing director. "This is a response to demand."
About a dozen student-led companies quickly filled the first version of TechArb. Ann Arbor venture capital firm RPM Ventures collaborated with U-M and McKinley to provide the first space, which was empty.

The student-led companies that used the first TechArb office will be given the opportunity to apply for space at the new location.
Imre's CrowdClarity has leveraged free space at TechArb to further develop its sales prediction product, which relies on the elements of "crowdsourcing" to provide reliable data to business executives. The company is collaborating with Detroit-based data firm Urban Science to market its sales prediction product.
The incubator space, Imre said, "was absolutely key to our business."
Other businesses that have thrived at TechArb include:
-Mobil33t, whose DoGood application for the iPhone has drawn national attention for its ambitious goal: getting users to do one good deed a day.

-MyBandStock.com, which allows music fans to invest directly in their favorite bands in return for exclusive access to content.

The university expects to charge a rock-bottom rate to rent space, and student-led companies will likely be given the chance to apply for free rent. TechArb will be open to companies not led by students, but they have to be associated with the university, Neal said.
Photo by Melanie Maxwell | AnnArbor.com
TechArb adds to a growing list of low-cost business incubators designed to support Ann Arbor's entrepreneurial community. The list now includes: two SPARK-led life sciences incubators, one in Ann Arbor and another in Plymouth Township; a SPARK-managed office incubator on Liberty Street; and a nonprofit incubator called the Michigan Research Institute at State Street in Pittsfield.
This is the first, however, designed specifically to boost student-led companies.
"We're fulfilling an unmet need," Neal said. "It will help fill the entrepreneurial supply chain, which isn't being done. It really needs to be done."
Elizabeth Parkinson, director of marketing and public relations for SPARK, said the TechArb entrepreneurs would receive access to SPARK conference rooms and entrepreneurial activities. She said the development of a robust student entrepreneurial community is promising.
"They're willing to take advice, they're nimble, they're quick and they don't need a lot of capital," Parkinson said.
Contact AnnArbor.com's Nathan Bomey at nathanbomey@annarbor.com or (734) 623-2587 or follow him on Twitter.