Posted on
Fri, Dec 17, 2010 : 9:47 a.m.
University of Michigan, tech companies celebrate new Detroit patent office
By Nathan Bomey
The University of Michigan and tech companies in the Ann Arbor region will have better access to federal intellectual property resources after the U.S. Patent and Trademark Office said Thursday it would open its first satellite office in Detroit in 2011.
U-M lobbied the federal government to choose Michigan for its first satellite office, Gov. Jennifer Granholm said on a conference call with reporters.
The office is the first of several satellite operations where U.S. patent examiners will seek to expedite assessment and approval of patent applications. The Detroit office will employ 100 high-paid patent experts, U.S. Department of Commerce Secretary Gary Locke said.
Stephen Forrest, U-M's vice president for research, said in a statement that the patent office would generate practical benefits for U-M scientists and engineers.
U-M filed for 151 patent applications in its 2009 fiscal year and 1,184 since 2001, according to U-M's Technology Transfer Office.
"The ability to do patent business at an office in Detroit will be a boon to the many educational institutions and knowledge-based industries in the larger region," Forrest said.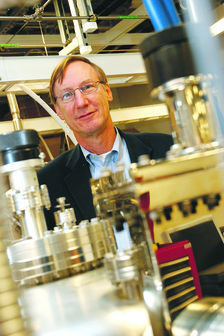 File photo | AnnArbor.com
Locke has said one of his top priorities is reducing the patent office's three-year backlog of applications, a bureaucratic slog he described as a threat to American innovation. Companies and researchers should have a decision on their applications within a year, not three, he said.
"This uncertainty is damaging to innovation and inhibits the creation of new businesses and jobs, denying the public new life-changing technologies and inventions," he said.
Michigan is a hotspot of intellectual property in large part because of the automotive industry and its research universities.
Granholm said Michigan generates the seventh most patent applications of all the states.
Granholm suggested the patent jobs — which will be posted early next year to the Patent Office website — could be an opportunity for high-tech jobless workers to make a career transition.
"Obviously with the changes in the auto industry we have a lot of displaced high- and well-educated folks in the sciences and engineering fields that would be eager to help reduce your backlog," Granholm said on the conference call.
Contact AnnArbor.com's Nathan Bomey at (734) 623-2587 or nathanbomey@annarbor.com. You can also follow him on Twitter or subscribe to AnnArbor.com's newsletters.