Posted on
Sat, Oct 27, 2012 : 5:56 a.m.
Top 3 eye-catching inventions from University of Michigan student entrepreneurs
By Ben Freed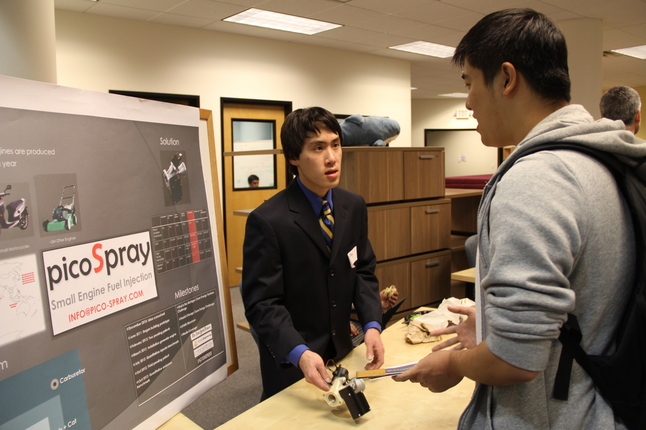 Ben Freed | AnnArbor.com
There are stories of famous entrepreneurs who never finished college - Bill Gates and Michael Dell come to mind - but the University of Michigan is banking that today students starting companies will want to stay in school if given the right resources.
Students from U-M's startup accelerator TechArb showed off their inventions Thursday night at a Student Startup Showcase held to highlight some of those school-bound CEOs who are earning patents and degrees simultaneously.
The display was held in Menlo Innovations, which shares a glass wall with the incubator that gives U-M students access to mentors and resources as they attempt to transfer their ideas into successful companies.
The event, co-hosted by the College of Engineering's Center for Entrepreneurship and the Ross School of Business' Zell Lurie Institute for Entrepreneurial Studies, featured startups ranging from a company whose mission statement was "to save infants by providing developing nations with warming blankets" to a group of graduate students across the room that runs A2HappyHour.com.
While every startup presented was impressive, here are three that caught my eye: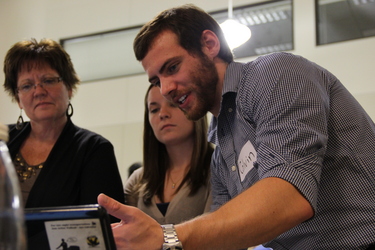 Ben Freed | AnnArbor.com
Co-founder
Calvin Schemanski
said the idea for his new website came from spending countless hours on
Yelp!
trying to find information that would help him make up his mind.
"The site, and other review sites, are just not optimized for making decisions," he said.
"If you search pizza, you get a bunch of pizza places that all have 4 1/2 stars and you have to go and read really long reviews to find anything out. It can take an hour to find out where you want to go, if you're willing to invest that sort of time."
Schemanski's site, MyFab5, encourages users to ranke their "top 5" choices in different categories and sub-categories. An algorithm is then used to rank the top 5 options in an area for a given category. Searching "Pizza in Ann Arbor" would give you the top 5 pizza places based on user rankings, but also displays rankings for "best deep dish," best gluten free," and other subcategories that could help people decide where to go.
MyFab5 was originally turned away from TechArb, but was accepted midway through the current term when its co-founders proved that they were serious about working on the site, which will be releasing its third iteration in mid-November.
Being in the startup accelerator has offered the budding company opportunities that include training on sales and business techniques, as well as mentorship in close proximity.
"Being in TechArb has really been amazing for us," Schemanski said.
"Before we were using empty library space with no one around, now if our engineer has a problem he can literally walk out of the door and go find someone at Menlo or one of the other companies here to ask."
Menlo Innovations CEO Rich Sheridan said one of the first things the company does every morning is open the glass door between them and TechArb to show that they want those sort of questions.
"We don't want them to think they have to make an appointment to meet with us," he said. "We want this to be a helpful and mentoring environment."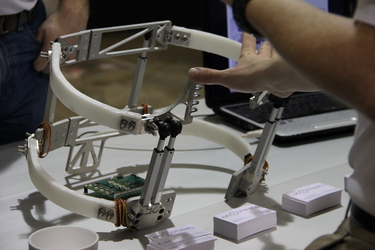 Ben Freed | AnnArbor.com
While doctor's primary job is to make other's feel better,
Daniel Johnson
found during his Ph.D. research that many physicians suffer from a higher rate of back problems due to the hunched over posture they take during surgery.
This discovery led to the formation of a unique back brace that can be worn under a doctor's scrubs and helps distribute weight more evenly and prevent the pain that can come with back strain.
Johnson said attempts have been made to use pieces of furniture or other brace-type devices, but they have all eventually given up due to either the device affecting the doctor's performance or the hassle of upkeep. The device is unique in that it does not have to be sterilized and it's not bulky or burdensome to the doctor.
The company has created prototypes and participated in the National Science Foundation's I-Corps program that helps scientists bring ideas to market.
"Being a part of I-Corps and TechArb has really been a whole new world for us," Johnson said.
"I'm an engineer, and selling the product is really the other half of the coin. The product you create is value that you create, but you really can't do anything without the rest of what we've learned here. It's helped get our product out there."
TurtleCell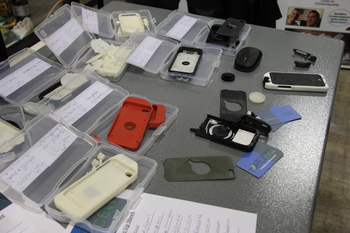 Ben Freed | AnnArbor.com
Ear-bud headphones were a great invention, but they have the very annoying habit of getting knotted up, tangled, or, if you're like me, wrapped around your keys and anything else floating around in your pocket. Mechanical Engineering graduate student
Paul Schrems
would spend over half his walk to class untangling his headphones and he decided to do something about it.
The cellphone cases Schrems designed, with the help of mechanical engineering senior Nick Turnbull, have a built in mechanism that pulls in and re-wraps headphones in much the same way that a tape-measurer recoils.
"We have a patent on the return mechanism," Schrems said. "We wanted to patent the whole thing, but it was too broad of an idea."
Schrems and Turnbull got their first $1,000 of funding from winning the 1,000 Pitches YouTube competition. The team is now looking at pursuing traditional venture capital to continue perfecting its prototype and plans to launch a campaign on the crowd-funding site KickStarter once they're ready to start mass production.
"We're looking into asking for $100,000 on KickStarter, which seems like a lot of money at first," Turnbull said.
"But similar products have raised upward of $150,000 or $200,000 so we think it's realistic. We'd rather raise money from crowd-sourcing because we wouldn't have to give up as much of the company as we would if we raised all of our capital from venture firms. And if KickStarter doesn't work out, we aren't on the hook for any money."
Here's a video of Schrems and Turnbull pitching their product:
Ben Freed covers business for AnnArbor.com. You can sign up here to receive Business Review updates every week. Reach out to Ben at 734-623-2528 or email him at benfreed@annarbor.com. Follow him on twitter @BFreedinA2