Posted on
Fri, Jan 20, 2012 : 2:28 p.m.
Young downtown workers, businesses drive increased interest in getDowntown bus passes
By Lizzy Alfs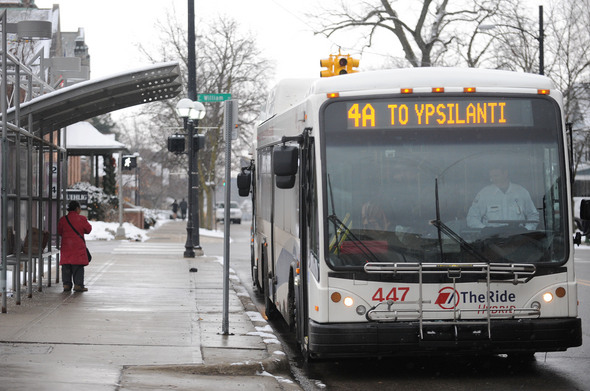 Angela Cesere | AnnArbor.com
More downtown Ann Arbor employees than ever before are saving gas money and utilizing other methods of transportation to get to work.
Of those other commuting options, getDowntown's unlimited bus pass, the go!pass, is reporting the highest levels of ridership in the program's 13 years in operation.
Customers took 640,179 go!pass rides from Nov. 2010 to Nov. 2011, up nearly 32,000 rides from 2000.
GetDowntown, a partnership between the Ann Arbor Transportation Authority, Ann Arbor Downtown Development Authority and the city of Ann Arbor, offers the pass to downtown employers for an annual $10 per employee. If an employer opts in to the program, they must purchase one pass per full-time employee.
The go!pass also gives people discounts for the A2 Express Bus, Night Ride and at many businesses downtown.
From people trying to cut commuting costs to employers encouraging environmentally friendly habits, use of the service is growing significantly, said Nancy Shore, program director for getDowntown.
More than 500 downtown Ann Arbor employers participate in the program, and Shore said the go!pass is even convincing some employers to locate downtown.
Shore recently spoke with AnnArbor.com's Lizzy Alfs to discuss bus usage, go!pass demographics and the future of the program. Excerpts:
AnnArbor.com: Go!pass use continues to increase each year. Tell me some of the ridership trends you're seeing.
Shore: One of the trends I'm seeing is a lot more young people living and working downtown that don't have cars. These are the knowledge workers and the people we want to keep in the community.
Where is the market for them? It's downtown because there is access to transit and it's walkable and bikeable.
AnnArbor.com: What kinds of employers are choosing to buy go!passes for their employees?
Shore: There are 500 and some organizations downtown that get the passes for employees. Of those, the top three industries using the pass the most are food - and 89 percent of passes given to restaurant workers are used - personal care, fitness, other services and retail.
But another one of the things we're seeing is an increase in bus use by the IT marketing-type sector. Companies like Google, MyBuys, Arbormoon and Lakeside Software use go!passes. One of the things keeping these companies downtown is they can offer this benefit to employees and don't have to worry about offering parking for everybody.
AnnArbor.com: Go!passes save on costs for employers who don't have to pay for employees' parking, but what are some other reasons people may be utilizing the bus system?
Shore: I think a lot of these employees are just more interested in living an urban lifestyle, and part of that is getting places on a bus. I think the environment does play in, and there's also a fitness component.
Hands down, I think the cost component is huge. And then I think people are feeling more comfortable with public transit in general. It doesn't feel as strange to people, especially people moving from Chicago or other urban areas. There's also a hipness factor to it, as well.
AnnArbor.com: How do you see both this program and other Ann Arbor transportation options growing and expanding in the future?
Shore: The bus system, zipcars, bike parking and all these things add up to make downtown more attractive and compelling. There are a few things I'd like to see:
As part of the Ann Arbor Transportation Authority's master transit plan, they'd like to hire somebody to do what I do for the outside of downtown area. So hopefully, they'd focus on the university to increase their transit use and other major employers.
Part of the master plan also focuses on more evening and weekend service and it's coming if the voters decide it's worth their money. It would definitely benefit businesses.
I am talking with a couple other people about starting a bike share program. There are a lot of people interested in going short distances downtown and having a bike share program would be compelling.
I'd like more expansion in the zipcar program as Ann Arbor grows more vibrant. I'd like to continue the conversation about the "Complete Streets" concept and the idea of making each street supportive of all transportation uses, such as making sure bike lanes are always maintained. I want to make any mode of transportation somebody wants to use convenient for them.
Lizzy Alfs is a business reporter for AnnArbor.com. Reach her at 734-623-2584 or email her at lizzyalfs@annarbor.com. Follow her on Twitter at http://twitter.com/lizzyalfs.