Posted on
Fri, Sep 14, 2012 : 5:58 a.m.
'Vellum' restaurant owners aim for mid-November opening in downtown Ann Arbor
By Lizzy Alfs
Ann Arbor's South Main Street is getting a new restaurant, bar and lounge in the coming months as John and Peter Roumanis prepare to open their latest concept: Vellum.
The restaurant, a unique American concept that utilizes Michigan grown products, is opening at 209 S. Main St., next to The Ravens Club. The space was most recently occupied by half of the Full Moon restaurant.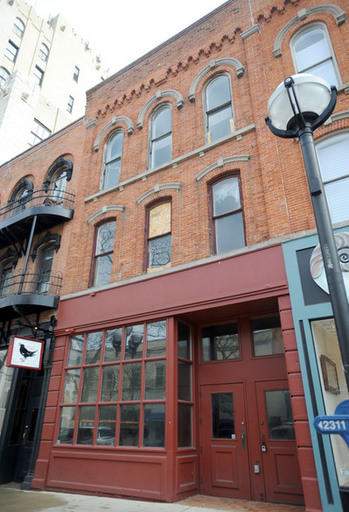 AnnArbor.com file photo
Together, the father and son duo have decades of experience in the restaurant industry: John owns Ann Arbor's Mediterrano and Carlyle Grill, and Peter has worked at restaurants in Paris, Chicago and New York.
In February, they purchased the three-story building on South Main Street and are now in the process of converting the 2,513-square-foot first floor and 2,633-square-foot second floor of the building into the restaurant and bar. The third floor will eventually be converted into a loft for Peter.
"(Vellum is) going to be American food," Peter explained. "The techniques we use will be both modern and traditional…we really feel like we can do this beautiful food with precise technique without having to be a formal restaurant where you have to spend high-end prices on Main Street."
He said Vellum will highlight "as many things as Michigan has to offer," including sour cherries, sweet corn, morel mushrooms, apples, carrots and various fish.
"We have been going around the state and discovering various things we are really excited about," he said. "We kind of use these undervalued ingredients and coax out that flavor and transform it into something beautiful and incredible."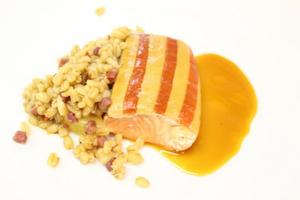 Photo from Vellum's Facebook page
Peter said Vellum will offer a unique cocktail list, which is being created by head bartender Travis Reeves. A large wine cellar is also being installed on the second floor.
A small area on the first floor will be dedicated to the restaurant's specialty coffee program, spearheaded by Josh Longsdorf of Detroit's Anthology Coffee.
The pastry sous, Dugan Walser, is working on developing a "mind-blowing" dessert menu to pair with the coffee and cocktails, Peter said. The head chef is Russell Bronson.
They also are in the process of hiring 30 to 50 additional employees.
"In many ways, (Vellum is) going to fit within the dining scene here and the scope of what people feel is acceptable, but at the same time, it's going to very much push the envelope," Peter said.
The lounge and bar at Vellum will open in the late afternoon for cocktails and drinks. Dinner will probably be served from 5:30 until 10:30, and cocktails and desserts will remain available until at least midnight. It will be open seven days a week.
The under-construction space will have about 130 seats on the two floors, including a small outdoor patio. Peter described the feel of the space as "warm" and "open," with a more intimate feel upstairs.
The contractor for the project is Mason, Mich.-based Lovell Contractors.
And as for the name of the restaurant? Peter said a printing company once occupied the historic downtown building, and Vellum, a parchment made from calfskin, had a nice ring to it.
"We really liked the historical aspect of it," Peter said. "It has a nice academic connotation being a university town."
For more information and updates on Vellum, visit the restaurant's Facebook and Twitter.
Lizzy Alfs is a business reporter for AnnArbor.com. Reach her at 734-623-2584 or email her at lizzyalfs@annarbor.com. Follow her on Twitter at http://twitter.com/lizzyalfs.