Posted on
Thu, May 13, 2010 : 5:58 a.m.
Venture capitalists increase demands as Michigan startups seek cash
By Nathan Bomey
Startup companies are being forced to jump through more hoops and agree to more concessions to attract the few investors who are dangling dollars in the midst of a funding crunch, experts said this week at the Michigan Growth Capital Symposium in Ypsilanti.
The national economy is gradually recovering from the global financial crisis, but investors who survived the turmoil are scrutinizing potential deals more intensely and embracing caution.
That means that Ann Arbor's tech startup companies need to consider agreeing to unattractive deal terms to secure private financing.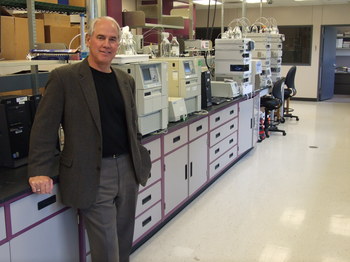 Nathan Bomey | AnnArbor.com
Lipitor co-discoverer Roger Newton, CEO of Plymouth Township-based Esperion Therapeutics, said investors are no longer willing to provide one major round of funding all at once. Instead, they are choosing to require that startup companies achieve specific milestones that trigger access to additional dollars.

"There's not a lot of wiggle room in how much money they're going to give you," Newton said.
The milestone strategy, typically referred to as "tranche" financing, is "something that's done almost universally now, because no one has that luxury of being able to put lots of dollars in and saying, 'Hey, we believe in you,'" Newton said.

The increased demand from investors means that startup companies need to polish their business plans and stick to specific promises. For example, biotech companies need to meet certain clinical goals with their therapeutic technologies to secure staged funding.
University of Michigan biotech spinoff Lycera Corp., for example, landed $36 million in financing in 2009. But the drug discovery firm only recently secured access to the second $11 million phase.
To wow investors, entrepreneurs need to have a well-defined strategy and path to commercialization, regardless of industry.
Newton said it's a stark contrast to the golden biotech era of the late 1990s and early 2000's, when the first Esperion raised more than $200 million with comparative ease.
"You need to have your budgets honed, you need to have your patents pretty well secured, you need a prototype," Newton said.
Terry Cross, an investor and founder of consulting firm Windward Associates, said that even angel investors -- wealthy private individuals who fund startup companies -- are becoming more demanding with deal terms. Some are demanding that company executives temporarily give up equity for a few years and gradually earn it back if they're still with the company later on.
Jeff Bocan, managing director of global investment firm Beringea's Michigan office, said many venture funds are focusing on propping up their existing investments. That makes new investments rare and intensifies the competition for a small pot of dollars.
"They're trying to make their current funds last longer than possible," Bocan said. "They're reserving more for their current investments, which also has the effect of them doing fewer new deals."
Still, "deal flow" - a term that refers to the rate at which investors are funneling dollars to startup companies - is not dead. Beringea, for example, joined California VC firm Khosla Ventures to deliver $7 million in funding to Ann Arbor battery startup Sakti3.
And organizers of the Michigan Growth Capital Symposium, which U-M finance professor David Brophy formed 29 years ago, are encouraged by the level of interest in the state's entrepreneurial efforts. Several hundred investors and entrepreneurs attended the event, which was organized by the U-M Ross School of Business' Zell Lurie Institute for Entrepreneurial Studies and the Michigan Venture Capital Association.
"We're starting to really achieve a meaningful critical mass of venture capitalists," Bocan said. "The right kind of people are here now and enough of them are here."
Contact AnnArbor.com's Nathan Bomey at (734) 623-2587 or nathanbomey@annarbor.com. You can also follow him on Twitter or subscribe to AnnArbor.com's newsletters.