Posted on
Fri, Mar 26, 2010 : 5:57 a.m.
Ypsilanti's VG Kids survives, adapts, expands on Railroad Street
By Tom Perkins
For having been beat back by the failing economy over the last two years, Ypsilanti's VG Kids' owner James Marks stands on surprisingly solid ground.
In that time frame, the 31-year-old Ypsilanti entrepreneur opened four buildings, closed down three, consolidated his screen printing company's operations into one new building, opened a new set of studios for area artists and launched a merchandising company.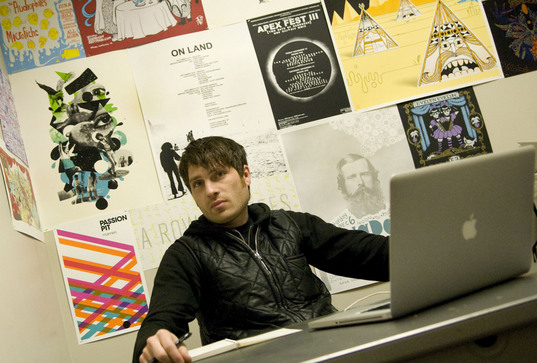 Tom Perkins | For AnnArbor.com
But all the twisting and turning to pull out VG Kids out of a financial jam has proved beneficial, leaving Marks wiser and his business in a better position.
"We contracted physically but expanded in the reach of our ideas," Marks said. "Part of the effect is having more time than we had before, and with increased efficiency we can take advantage of more opportunities."
Business had exploded during the three years leading up to July 2008, prompting Marks to expand VG Kids to the west coast with a printing operation in Oakland, Calif. But no sooner had he "spent his last dime" on investing in it than the economy took a sudden nosedive.
The Oakland operation, in which Marks eventually lost $100,000, was VG Kids' third location. Another VG print shop had been located on West Michigan Avenue since 2003, and a storefront in downtown Ypsilanti dedicated to customer service opened in February 2008. By the end of 2009, all three were shuttered, and the entire operation is now under one roof on Railroad Street.
Marks said a business book he recently read explained what happened to him as kind of a phenomenon - a somewhat inexperienced entrepreneur achieves a certain degree of success with his or her first business, then expands too quickly.
"You feel like you can take over the world," he said. "And it seemed like it was our obligation to grow and expand, but it turned out pretty quickly that wasn't true."
But he said closing the three buildings' doors opened his eyes to other possibilities with all of his screen printing operation consolidated under one roof. It allowed more energy to quickly focus on offshoots with the same do-it-yourself, but professionally run, approach that is in line with VG Kids. July 2009 saw the opening of SPUR Studios, a collection of offices converted into practice spaces for bands and studios for visual artists. It's already at 90-percent occupancy.
He also started Whiplash Merchandising, for which his flagship band is Modest Mouse, a successful Seattle indie rock group. When someone goes on a Modest Mouse website and orders a t-shirt and record, its Marks's Whiplash Merchandising that ships the products for a cut of the sale.
But Marks is most excited about opening the new VG Kids HQ on Railroad Street. The search for a suitable space in Ypsilanti, which led to his discovering the SPUR Studios building in the process, nearly left VG Kids to seek out a home in Ann Arbor. No spaces seemed to quite fit VG's needs, and Marks thought he had exhausted all his options. But before looking west, he told Mark Maynard about his problem.
Maynard posted a call for suggestions on MarkMaynard.com, which yielded several options.
With a few exceptions, the community showed strong support for VG Kids remaining an Ypsi-based business. Marks also randomly ran into Ypsilanti Mayor Paul Schreiber around that time, who offered a few suggestions.
"It's a really small community and it feels good to be an active member," Marks said. "Ypsilanti is doing really well and it's on the cusp of this burgeoning art scene, and there are and more places to hang out and a lot of good people. The thought of leaving that didn't feel good and we were fortunate we didn't have to."
One of the suggestions, a former commercial kitchen that produced meals for prisons hospitals, surprisingly became the best fit.
"It's fantastic," Marks said. "We stumbled into this glorious building that's built for what we're doing in a serendipitous way. We were able to convert it into a print shop. It was a kitchen, but all the infrastructure is there and we've been benefiting from that hugely."
The 8,000-square-foot space was on the market for five years before VG Kids moved in. While most non-food industry related businesses would have no need for three large walk-in coolers, Marks saw potential.
One walk-in was converted into a washout room where the screens are sprayed with a high-pressure hose as part of the process of removing the old image.
Another walk-in was converted into a drying room. Because the walls in the cooler are built to maintain temperature - albeit cooler temps - Marks found it the perfect environment needed to dry photo emulsion on the screens at a steady temperature of 100-degrees and 40-percent relative humidity.
Housing customer service and production in the same facility has also improved efficiency. Previously all customer service was done at the downtown Ypsilanti storefront while the production took place in the warehouse down the street on Michigan Avenue.
"Instead of making a call to see where an order is and putting a customer on hold while they look for it, I can just look over and say 'Yeah it'll be done in 10 minutes,'" he said. "I feel like we're in a really place to grow and move foreword … that's where we're at and it's been really healthy for us."
This week, the 10 full-time employees at VG Kids are turning out orders that are typical of what they usually see. They are producing T-shirts for a company licensed to make Bettie Page and Buck Rogers shirts, shirts for Ann Arbor's WCBN radio station and plenty of stickers and posters.
For the moment Marks is satisfied with his companies' positions. His priority is expanding VG Kids to a roughly 20-person operation, which he sees as ideal for allowing him to concurrently grow Whiplash and manage SPUR Studios.
"In the short term, we're trying to put the pieces together, get the feeling of the building and keep working hard and kicking more jobs out," he said.
The name VG Kids was carried over from a previous Marks venture started in Pontiac when he was 17. There he opened a vegetarian grocery store, called the Vegetarian Grocer, in which the help were dubbed the VG Kids.
When that shut down, Marks moved to Ypsilanti where his then-fiancee, Fly Art Center's Ruth Marks, grew up.
"I didn't really want to get a job, so I got this tiny 500-square-foot workshop," he explained.
At the time, obtaining a domain name was a gigantic hassle, so Marks used the name of his old store for the new screen printing operation as a way to carryover momentum.
Initially, all of VG's business came via the web, but once he moved to a larger space on West Michigan Avenue and built a skate park in the half not utilized for screen printing, local companies and bands began to take notice. Business saw an uptick.
"That was kind of the beginning of our reputation in Ypsi and Ann Arbor," he said. "That's when we got known to be good at what were doing."
A big break came in 2004 as MoveOn.org was gearing up to try to put John Kerry in office. They saw an ad for VG Kids in a small punk rock magazine called Maximum Rock and Roll and ordered 1,000,000 bumper stickers.
Today, aside from re-building business on Railroad street, Marks  is making use of the old VG Kids storefront in downtown as a temporary art gallery until the lease is up. 
This Saturday Marks is holding the gallery's first opening, with work by a number of local artist and live music from Ypsilanti's Manhole and Patrick Elkins.
More plans already are in the works. Marks is hoping to open some type of flexible venue and has already walked through a few buildings, but he likes to let the buildings play a role in deciding what sort of business comes next.
"I like being familiar with the real estate and looking at a building and saying 'This would be perfect for such and such,'" he said "I'm walking through spaces with a venue in mind but if something else comes along that's better for something different, than I'll do that."