Posted on
Sat, Aug 10, 2013 : 5:58 a.m.
Former Moveable Feast home on Ann Arbor's West Liberty to be renovated after sale
By Lizzy Alfs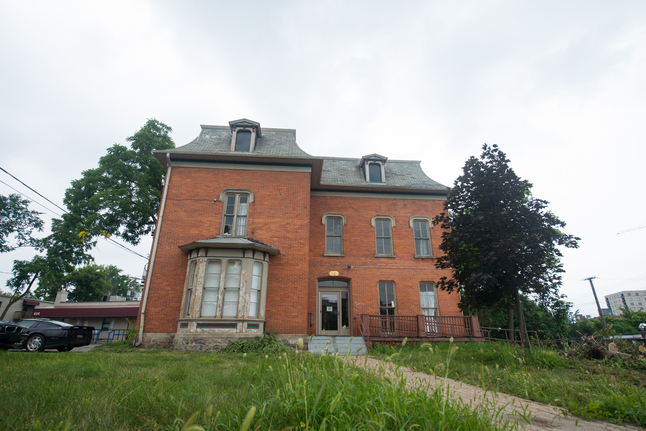 Courtney Sacco | AnnArbor.com
A year and a half after
Joe Lambert
founded Ann Arbor tech startup
Sequoia Applied Solutions
, the company became too large for its makeshift office inside Lambert's home.
The solution, he decided, was to purchase the historic house at 326 W. Liberty St., just west of downtown, and convert it to office space.
"It's a gorgeous house, built in the 1860s," Lambert said. "It has a lot of history."
City records show Lambert purchased the building in July for $550,000 from former owner Gary Clark. Lambert recently moved his seven-person company to the building and is in the process of renovating the structure to create rentable office suites.
"One of our thoughts here is to try and create some space for other companies that are in similar situations to what we were," Lambert explained. "Young companies, growing companies, people with good energy. People who are just starting companies and want to occupy some of this space."
After leaving his former employer, Lambert, a University of Michigan alum, founded Sequoia Applied Solutions — which provides technical consulting, mechanical analysis, and design services to clients in aerospace, defense and commercial industries.
"This business sort of started accidentally," Lambert explained. "I had left the old company planning on taking a break. Within a week of leaving, I had customers calling and I did some small consulting just to help. …Within two weeks of that, the contracts kept growing and growing and I had to hire some more people."
Built as a single-family home in the 1860s, 326 W. Liberty St. was later occupied by the Independent Order of Odd Fellows and then the Moveable Feast restaurant. Identity Salon & Spa opened in a portion of the building in 2008, but that business has since closed.
The building was listed for sale with Bela Sipos of Reinhart Commercial. It has an assessed value of $363,000 for the 2013 taxable year.
"The house is close to downtown, so we get to be a part of the downtown community," Lambert said. "Being here and being a part of the community and meeting people is really valuable."
Sequoia Applied Solutions' office occupies a small portion of the building on the first floor. As the company grows, Lambert said it could expand room by room.
In the meantime, Lambert is creating separate office suites in different parts of the house that companies can rent, along with a shared conference room, kitchenettes and bathrooms. The building will also have a common receptionist near the entrance.
Lambert plans to recreate the building's original porch and possibly add a second floor to a block structure located behind the main house.
"These are unique spaces, not just the cookie-cutter office cubicle," Lambert said.
"We're kind of bullish on Ann Arbor. We think this is a great town. There's a lot of talent coming out of U-M and a lot of interesting startup companies that we pair well with. …I like being around good, creative energy and we're going to try and make that possible."
Lambert hopes to have three office suites ready to lease by mid to late August.
Lizzy Alfs is a business reporter for AnnArbor.com. Reach her at 734-623-2584 or email her at lizzyalfs@annarbor.com. Follow her on Twitter at http://twitter.com/lizzyalfs.