Posted on
Fri, Jul 6, 2012 : 5:59 a.m.
After the Dexter tornado: Village Car Wash & Laundry to be rebuilt this summer
By Laura Blodgett
Laura Blodgett | For AnnArbor.com
The Village Car Wash & Laundry Inc. on Second Street in Dexter that was leveled by the
tornado
that swept through town in March - causing
$9 million in damage
across the area - is close to being rebuilt.
The owners are nearly finished with the insurance process, and are taking construction bids while waiting for plan approval from the county.
Their hope is to break ground on the two new buildings in August and open sometime this fall. Both the car wash and laundry have been shut down since the tornado.
"Both buildings were demolished last weekend," said Cheryl Caffrey, who has co-owned the business for seven years with her husband, Peter Caffrey, along with Greg Ash, Alan Hale and their wives.
When the tornado hit, it ripped off the roof of the laundromat in two pieces and threw it at the self-serve car wash, taking out a wall of the car wash. All that was left standing of the laundromat was the bathroom.
The new laundromat will be expanded slightly to comply with the American with Disabilities Act. The bathroom will be made larger and the machines will be located along the walls instead of the center of the room for better handicap access. The laundromat machinery survived the tornado. All of the other features will remain the same, including the square footage of both buildings. The car wash will return to five self-service bays. The buildings will once again be made of cement block, though Caffrey says the owners may select a more updated color or go with a textured block.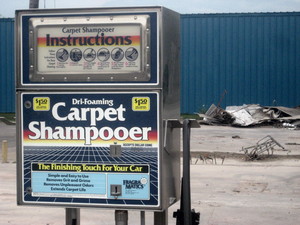 Laura Blodgett | For AnnArbor.com
For the most part, Caffrey has gotten over the shock of the tornado and is looking forward to the next chapter of the business.
"Once they tore it down, that was another shock," said Caffrey. "Once you got over that, it's kind of exciting to see how it's all going to go up and what it will look like when it's done."
Caffrey wants to thank the landscaping company that donated and planted new trees around the building site. "People have been great," said Caffrey. "We had a person stop by yesterday to see how things are going. It's nice to know people in the community want to get it up and running as soon as we can. "One thing is for sure," she adds with a laugh. "There's a lot more dirty laundry in the city."