Posted on
Thu, Dec 20, 2012 : 5:12 a.m.
Washtenaw Contractors Association hosts 'JUST BUILD IT!' expo for area students
By AnnArbor.com Staff
The "JUST BUILD IT!" Construction Career Expo Oct. 31 introduced 14,000 students from 35 to the broad range of career opportunities available in architecture, engineering and construction. The expo was presented by the Washtenaw Contractors Association in cooperation with the Michigan Department of Transportation.
photos courtesy of WCA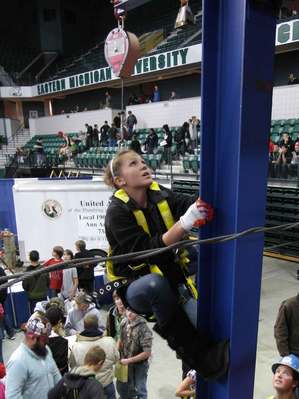 The students participated in a variety of hands-on demonstrations, including designing structures using blocks, cards, spaghetti and other materials; climbing a two-story vertical iron column; soldering; operating construction equipment using simulators; participating in nailing contests against journeymen carpenters; and raising a small barn.
In addition to trying their hand at the work done in all three of these aspects of the construction industry, the students learned what education and training is needed for these careers.
Exhibitors at the 2012 JUST BUILD IT! Career Expo included skilled trade apprentices, engineers, architects, surveyors, general contractors, subcontractors, colleges, universities, and construction associations.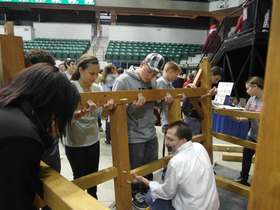 Participating schools from Washtenaw County included Ann Arbor Learning Community, the Ann Arbor Student Building Industry Program, Manchester High School, Scarlett Middle School, Skyline High School, South & West Washtenaw Consortium, Whitmore Lake Middle School and Willow Run Intermediate Learning Center.
Sign up for the weekly Business Review email newsletter here.