Posted on
Sun, May 20, 2012 : 1:20 p.m.
Washtenaw Intermediate School District moving Dexter location to ex-Cottage Inn space
By Katrease Stafford
After signing a lease just this week, the Washtenaw Intermediate School District is moving its Dexter location to a larger space in the downtown Dexter area.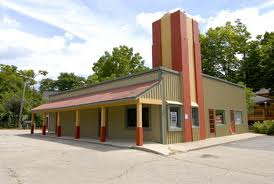 Courtesy photo
Brendan Cavender
of
Colliers International
closed the deal on the 3,500 square foot property located at 7890 Ann Arbor Street, which was originally listed for $14 per square foot.
The district plans to use the building as classroom space for its Young Adult Special Education Services, which provides a range of services for ages 18-26.
Neal Elyakin, the special education supervisor for the district's young adult programs, said students take classes and learn skills that prepare them for their next step in life and the work force.
The district has seven sites located throughout the county.
Elaykin said he expects for the move to be completed before the fall semester begins.
Elaykin said the district chose to move its Dexter location from its previous space at Encore Theatre because the theater is experiencing a surge in attendance and the district is growing as well.
"We are looking to expand our services throughout the county, and we're growing and they're growing and there is a limited amount of space available," he said. "We didn't want to leave Dexter because most of our students are Dexter residents and we didn't want to move them out of the area so it's a perfect spot for us."
Although the district is in the process of receiving referrals for its Dexter location, Elaykin expects the space will be utilized by between 16 and 20 students, a teacher and three or four staff members.
Cavender said the space has been vacant for years and hasn't had a tenant since Cottage Inn moved out. The restaurant moved to its current location on Broad Street in 2008.
"The building's been a mess," he said. "Everyone that knows Dexter knows this space and they know it's been blighted. It sat there being vacant and it was kind of an eyesore but that's all going to be over now."
Cavender saw a lot of interest in the property but since the building had been unoccupied for so long, it had fallen into "total disrepair."
"The investment it would require was just too much," he said. "So what we did with the county is we worked on an agreement that the building would be completely redone. A ton of money is going to be put into it and it's basically going to be a new building."
Cavender said the building will have to undergo a large amount of renovations. He said the space will need all new electrical work and wiring, new bathrooms, and a new heating and cooling system. The district also will have to put in all new carpet and flooring.
"They're going to just about have to gut it and do a new space," he said.
The district did not disclose the expected renovation costs.
Cavender said he turned down a few offers he received from interested parties because he wanted to see a "quality tenant" in the building.
"We had offers from a fast food chain and some tenants that downtown probably would not have liked," he said. "We decided that the best fit for not only the building but the community was the Washtenaw School District and I think that's pretty significant."
Elaykin believes the move to downtown will enhance the relationship between the district and the community.
"The students get a real kick out of the fact that people in the community know them," he said. "I think the move is a wonderful community builder that we're all benefitting from."