Posted on
Fri, Nov 23, 2012 : 6:13 a.m.
Black Friday: First-in-line shoppers race into Ann Arbor area Target store
By Lizzy Alfs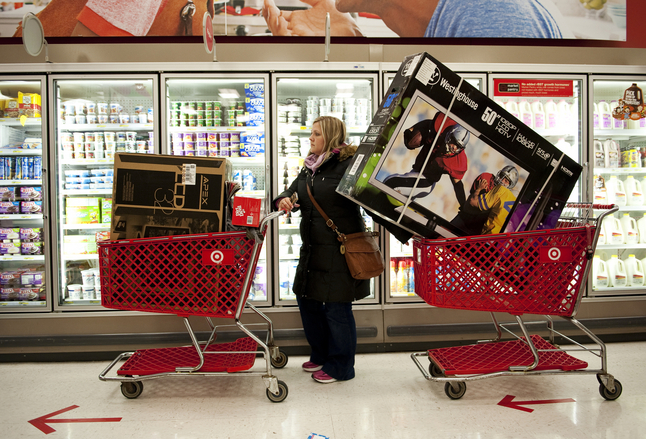 Daniel Brenner | AnnArbor.com
What began as an unusually warm November day turned into a cold and rainy night as hundreds of Black Friday shoppers stood in line Thursday waiting for an Ann Arbor area Target store to open.
By 8:45 p.m., 15 minutes before the store off Ann Arbor-Saline Road opened, hundreds of shoppers stood in a line that stretched halfway down the shopping center.
"This is the best night of the year," said Janice Roberts, an avid Black Friday shopper who was one of the first people in line at Pittsfield Township Target. She arrived at 5 p.m., just after she drove by Sears to check out the scene.
"If you're the first in line, it's going to be the best deal," she explained, "but if you're 40 people back, forget it."
When the doors opened at 9 p.m., security ushered shoppers inside the store while Target employees told people no running was allowed.
But because the Black Friday deals at Target are on a first-come-first-serve basis, 12-year-old Saline resident Ryan Estrada said he was booking it to get a TV and Nintendo 3DS.
"I'm the fastest person in my family, and last year, they wanted me to get a 46-inch TV for my dad, so right when the doors opened, I started running and my mom was like, 'Go, Go, Go!'" he explained.
"Originally, she told me not to run. Either way, I was going to run."
Estrada, who was one of the first people in line, walked out with his purchases at 9:12 p.m.
Cars continued to pour into the Target parking lot well after 9 p.m., while security guards and police patrolled. Employees handed out maps detailing the store's best deals.
For Sarah Harris, Target is just one of her many stops on Black Friday. She estimated she would have 98 percent of her holiday shopping done by Friday.
"I've done Black Friday for 12 years," Harris said. "I'm going to go to Walmart and Kmart after this, and I've already been to Meijer."
Harris was planning to purchase a discounted iPod Touch for her son at Target. She's also buying holiday presents for the family she's "adopting" this year.
"I pick a family every year that's less fortunate to shop for," she said. "This year, I actually have two families. I really like it; I get a rush out of buying stuff and doing things for other people."
Lizzy Alfs is a business reporter for AnnArbor.com. Reach her at 734-623-2584 or email her at lizzyalfs@annarbor.com. Follow her on Twitter at http://twitter.com/lizzyalfs.