Posted on
Mon, Jul 2, 2012 : 5:37 p.m.
Weather Underground acquired by The Weather Channel, will keep separate brand and website
By Ben Freed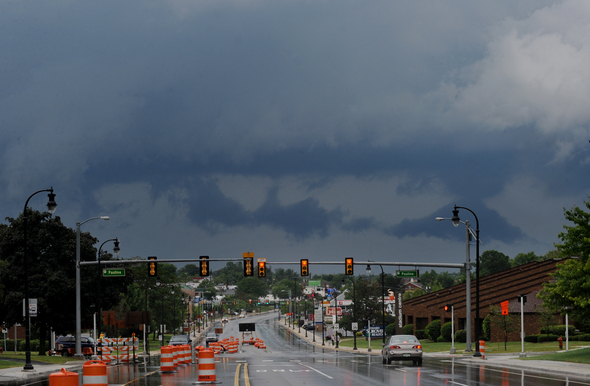 Melanie Maxwell | AnnArbor.com
Disclosure: AnnArbor.com uses Weather Underground as the weather source for our site.
The Weather Channel Companies announced Monday that they have completed an agreement to acquire weather website Weather Underground. Terms of the transaction were not disclosed, and the process is expected to be finalized in the coming weeks. Weather Underground was founded in Ann Arbor in 1995, and still operates an office on North Fifth Avenue with seven employees.
Jeff Masters, director of meteorology at Weather Underground, said the future of the Ann Arbor office is unclear.
"We anticipate we'll keep it until October 2013 when the lease is up and then we'll just see what happens," he said.
"I'm going to continue working for the company as far into the future as I can see. As long as I continue doing what I do I'll be in Michigan so there will be a Michigan presence."
Founders launched Wunderground, as it is known to its loyal followers, in 1995 when they claimed wunderground.com as the 2,000th domain name ever registered. Masters wrote on his blog that the Weather Underground team missed registering as weather.com by just one month.
The company, a spinoff of a University of Michigan project, took its name from a 1960s radical group that also formed at the University of Michigan.
Wundergound has grown rapidly in the past three years, Masters wrote on his blog,
"We grew from six employees in 1999 to 20 in 2009. But in the past three years, Weather Underground entered into a rapid period of growth that saw our staff more than double to 57 people," he wrote.
With the rapid growth, came new demands, and Weather Underground needed more resources to keep up.
"Becoming a part of The Weather Channel Companies will enable us to strengthen what our users love about wunderground.com, our apps and our blogs," Weather Underground president Alan Steremberg said.
"We see this as a great opportunity to grow."
Most of Weather Underground's employees are based in San Francisco, and that office will become a Weather Channel regional office. Masters said the company moved the bulk of its operations from Ann Arbor to San Francisco because of cheaper bandwidth costs in the 1990s.
In a press release, The Weather Channel said that wunderground.com will continue to operate, and its employees will become part of The Weather Channel Companies.
"Weather Underground will add a great complementary, brand to our portfolio, a brand with a distinct, loyal, and active user base that will enable us to reach a unique segment of users," TWCC chairman and CEO David Kenney said in the statement.
"Most importantly, this acquisition will grow the weather expertise that is central to everything we do and will result in better forecasts and weather data for users on all of our platforms."
One of the features Weather Underground will bring to Weather.com is its network of "Personal Weather Stations." Wunderground has taught its readers to set up personal weather stations and provided software to put the stations online.
The result has been a network of more than 20,000 weather stations around the world feeding a constant stream of data in to Weather Underground meteorologists. Masters said he expects to see the data from the backyard weather stations on the Weather.com website as early as the end of this month.
Commenters on Masters' blog were congratulatory, but often negative about the merger. Many felt that Weather Underground offered a strong alternative to The Weather Channel, and that the acquisition will stifle the "voice" of the website.
"Wow. Not very happy about this. The reason why I love Weather Underground is because it isn't like the Weather Channel. It sticks directly to the science of weather and climate. Now, it'll have a lot of traffic and will be owned by NBC pretty much," said one commenter with the moniker weatherman566.
"Congratulations, but uhh...I'm worried about the future."
Both Masters and The Weather Channel said Wunderground.com will remain a separate site with its own unique brand and some unique content.
"I can sympathize with their point of view," Masters said. He wrote in his blog that this is not the first time The Weather Channel has approached the website about a merger.
"However, I will work hard to maintain our identity, and I expect their fears will be unfounded."
Masters is one of the most popular voices on the Weather Underground website. His specialty is hurricane meteorology and he spent four years with the Hurricane Hunters in Florida. He said he almost died flying into Hurricane Hugo in 1989.
Ben Freed covers business for AnnArbor.com. Reach him at 734-623-2528 or email him at benfreed@annarbor.com. Follow him on twitter @BFreedinA2