Posted on
Sun, Jun 12, 2011 : 5:58 a.m.
Wedding plans disrupted after code violations yield 'potential for catastrophe' in Barnstormer's banquet hall
By Nathan Bomey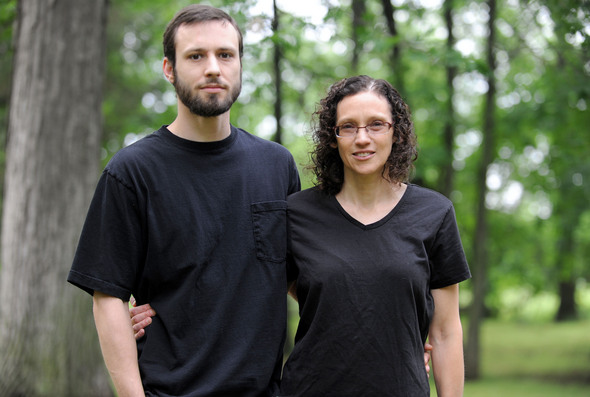 Angela J. Cesere | AnnArbor.com
When soon-to-be-bride
Annette Calhoun
met Monday with wedding coordinators to finalize details of her ceremony and reception at the
Barnstormer Entertainment Complex
in Green Oak Township, the Saline resident expected to deliver the final head count for her June 18 wedding.
Instead, it turned out to be the first time that Calhoun and her fiance, Saline resident Steve Verhelle, found out that Barnstormer's banquet hall — a popular wedding venue near Whitmore Lake — had closed due to numerous code violations discovered by township officials.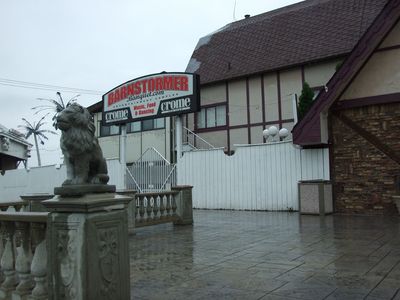 Nathan Bomey | AnnArbor.com
"I'm just sitting there in shock," Calhoun said, describing the moment she was told her reception would have to move. "I was just flabbergasted. I'm just watching my wedding go down the toilet that I've planned for two years at this point. It just kept getting worse and worse."
The closure of Barnstormer's banquet hall reduces the Whitmore Lake business' indoor capacity from 2,000 to 180 until the owner can complete renovations required by inspectors, Township Supervisor Mark St. Charles said.
Inspectors hired by the township recently delivered a 74-page report detailing numerous code violations and accusing Barnstormer of repeatedly flouting permitting requirements and various state regulations.
The banquet facilities at the 25,000-square-foot building on Nine Mile Road are dangerous and cannot be occupied until extensive renovations are completed, the inspectors said.
The situation threatens to disrupt a number of weddings and receptions scheduled to occur at the venue, which hosts up to 12 matrimonial events a month.
Barnstormer's second story, where three separate rooms make up the banquet hall, is closed at least until a July 12 "dangerous building show cause hearing" scheduled to take place at the township hall.
St. Charles said there was "potential for a catastrophe" if an emergency were to occur and people had to exit the facility quickly.
"We have tried everything we can to work with the owner. We're not making progress. The potential for loss of life in the event that there was some type of emergency — whether it be fire, natural disaster or somebody firing a gun or whatever, it doesn't matter — is extensive."
Rob Cortis, who owns Barnstormer, acknowledged that the building's capacity had been restricted but said "no one's ever told me" that the banquet hall was dangerous. He attributed the township's crackdown to "a different person interpreting the ordinances."
"From what's been brought to my attention, there are some things that need to be corrected and we're going to work on those items to get them corrected," Cortis said. "We want to get through this."
Cortis said that couples who have scheduled weddings or receptions in one of the banquet rooms can be moved outdoors or to the downstairs bar area, which continues to host the Crome night club. Otherwise, Barnstormer will work with couples to help them relocate their events, he said.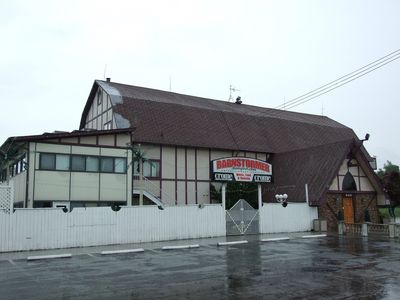 Nathan Bomey | AnnArbor.com
Asked whether Barnstormer had informed future wedding couples that the venue's capacity had been restricted, he first said: "We are informing and dealing with the potential customers in the order of their functions, getting one function taken care of and moving on to the next one. We are letting them known that we have to do a room change. We're working in every capacity to accommodate, assist and direct the bride in their room changes."
Later in the interview, he said he had "already talked to some of the customers" with events scheduled in July, August and September.
"We're keeping them posted," he said.
Calhoun said she was left scrambling after Barnstormer's manager told her Monday that she had to move her wedding and reception outdoors, without a tent, or downstairs to the venue's bar area.
"Then they said, 'Well maybe we can help you find somebody else, but it's going to cost you more,'" she said.
She regarded that as a breach of her agreement with the venue and found herself looking for a new location.
Her sister-in-law, Daphne Slater, who is helping to manage the event, worked out a deal with the Ann Arbor Country Club and caterer PrimOvations, which collectively agreed to host and cater Calhoun's wedding and reception with nearly 200 guests on short notice.
"It was wonderful," Calhoun said. "Monday and Tuesday I was just in absolute shock and horror, I'm contemplating how am I going to call almost 200 wedding guests and tell them there's no wedding?"
Now, she said, her priority is getting her $1,500 deposit refunded from Barnstormer. She said she hasn't heard back about her request yet. Until then, she said, she's borrowing money from family to compensate for the lost funds.
The inspectors' report, obtained by AnnArbor.com, spells out a litany of "very troubling" violations at the 25,000-square-foot facility, a renovated barn that dates back more than a century.
The report states that, of about 15 additions or building changes since 1982, many "disregarded" public safety and were completed without permits or certificates of occupancy.
The inspectors also said that a 300-square-foot outdoor gazebo built without permits, inspections or approvals in 1995 has "leaning structural integrity problems."
"Eventual collapse is expected," the inspectors wrote.
The banquet area has insufficient exits and emergency lighting, exit doors locked with dead bolts, lack of enough level flooring and stairways that are too narrow to make for a safe exit in the event of an emergency, the inspectors found.
"I think everybody was just blown away at the condition of the building," St. Charles said. "We've tried to work with the guy. We are very pro-business and we're very saddened that we have to take this position with a business, but again it's the safety of patrons, the safety of residents."
He predicted that the situation would probably end up in litigation.
The inspectors — Integrity Diagnostics' Dale G. Stevens and WRJ Associates' Wayne R. Jewell, both hired by the township — recommended that the entire business be temporarily shut down and forced to stay closed until fire inspectors can examine the facility and renovations are complete.
That should include "the redesign of the entire facility with the primary goal of reconstructing the entire facility to meet the minimum requirements" of state building codes, the inspectors wrote.
At the dangerous building hearing on July 12, a committee will allow Barnstormer "to show cause why the building or structures should not be ordered demolished or renovated and made safe," Greek Oak Township interim building official Wayne Jewell wrote in a notice sent to Barnstormer. After the hearing, the township Board will have the authority to act further.
Cortis said Barnstormer would have to make a relatively significant investment to get up to code, though he declined to place a specific pricetag on the necessary upgrades.
A visit to the property on Friday showed that the fenced-in outdoors area behind the Barnstormer complex has grass that hasn't been mowed in weeks, two snowmobiles parked in the middle of the lawn and pieces of garbage strewn about parts of the yard.
"We're doing everything in our power to cooperate with the township," Cortis said.
Cortis emphasized that Barnstormer continues to host weddings and receptions at the remaining parts of its facility that are open and outdoors.
"Some brides may be inconvenienced but most of the brides are happy that we're working with them and that we're dealing with them," Cortis said.
Contact AnnArbor.com's Nathan Bomey at (734) 623-2587 or nathanbomey@annarbor.com. You can also follow him on Twitter or subscribe to AnnArbor.com's newsletters.