Posted on
Thu, Aug 30, 2012 : 12:13 p.m.
McDonald's on West Stadium goes upscale with contemporary look after remodel
By Janet Miller
The McDonald's Restaurant on West Stadium Boulevard in Ann Arbor has gone upscale.
Gone are the bright yellow and red colors sported by Ronald McDonald, replaced by an earthy palette of soft browns with terra cotta accents. The couch style seating has made way for two- and four-person tables along with round high-top tables with blonde wood-top stools. "My mother and her girlfriends wouldn't sit here," said William F. Pickard.
As the national chain works to broaden its appeal from young children to their mothers, college students and working professionals, Pickard decided it was time to redesign the restaurant, originally built in the mid-80s. There's a flat screen television and wall outlets for computers, contemporary lighting and lots of light natural wood.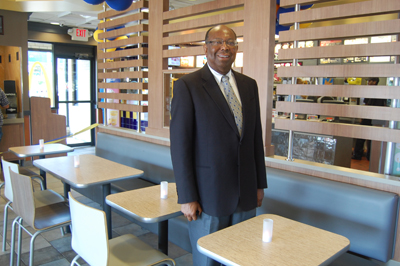 Janet Miller | AnnArbor.com
"We tried to get it to have a more contemporary look, that Panera Bread look," Pickard said.
In fact, as the chain rolls out menu changes such as ts "Favorites Under 400 Calories" campaign, its main competitor has shifted from Burger King to restaurants such as Panera Bread, said Sean Carleton, director of operations . The decor helps separate the restaurant from the pack, Pickard said. "I don't think most quick service restaurants have this kind of contemporary decor or Wi-Fi."
The McDonald's interior was closed for two weeks for the remodel while the drive-through remained open. The restaurant celebrated a grand re-opening Wednesday with music, speeches and menu deals. The new look is meant to attract more high school and college students with its enhanced Wi-Fi and contemporary look. Positioned mid-way between Pioneer and Skyline high schools and with the University of Michigan nearby, about half of the restaurant's traffic already is students, said Rob Mitton, general manager.
That is expected to grow. U-M students have been frustrated in the past because of the lack of computer outlets, Carleton said.
As part of the shift to go up-scale, even the terminology has changed. It's no longer fast food, Pickard said. McDonalds is a quick service restaurant. He would not release the cost of the remodel, but said that McDonald's corporate covers some of the expenses. Pickard also would not release projected sales growth from the remodel, only that he expected revenues to increase.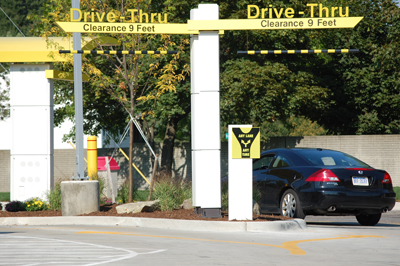 Janet Miller | AnnArbor.com
The company allows owner/operators to select redesign plans from four or five national companies, each offering three or four options. Pickard selected Michigan-based
Charter House Innovations
.
But the most important part of the redesign was creating a double drive through, Pickard said, reflecting the shift from ordering inside to ordering outside. Service will be faster and it will reduce backups in the parking lot.
The Stadium McDonald's is the latest of the four franchises Pickard owns in the Ann Arbor area to get a facelift. The South State Street location was razed and rebuilt a year ago, and the Lohr Road and Saline location were spiffed-up in 2008. Pickard also owns a McDonald's in Detroit and Dearborn.