Posted on
Wed, Jan 23, 2013 : 5:59 a.m.
What crepe? restaurant aims for February opening on Ann Arbor's East Liberty Street
By Lizzy Alfs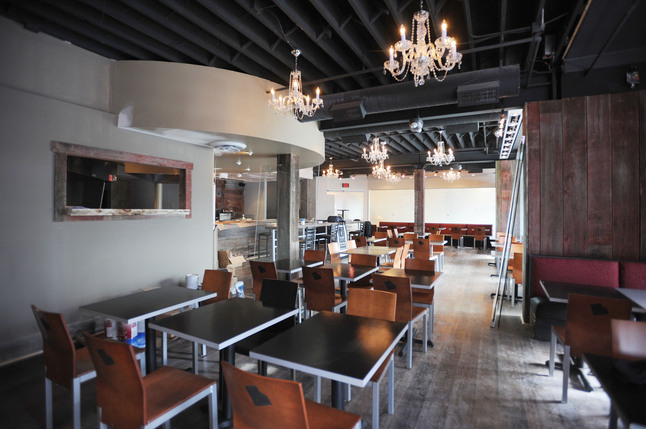 Melanie Maxwell | AnnArbor.com
From spicy chicken truffle to chocolate eclair and cinnamon sugar, more than 50 varieties of sweet and savory crepes will be available in downtown Ann Arbor next month when
what crepe?
opens.
Owner P.J. Jenkins plans to open the restaurant at 241 E. Liberty St. on Feb. 14.
"There has been a great buzz," Jenkins said. "I'm really excited about it."
Jenkins, a self-described "fifth generation entrepreneur," owns what crepe? restaurants in Royal Oak and Birmingham. He decided to venture to Ann Arbor when he found the "hidden jewel" on East Liberty Street — formerly Squares Restaurant.
Melanie Maxwell | AnnArbor.com
During the past few months, the 2,600-square-foot space has been transformed into a stylish French eatery with rich red fabrics, chandeliers and reclaimed barn wood from Milan, Mich.
"We wanted to make sure we are chic but still very vintage and classy at the same time," Jenkins described. "It's very artsy."
Jenkins lived in Ann Arbor for 10 years, and he said making what crepe? a part of the community is crucial. From banking with Bank of Ann Arbor to serving wine and beer from local distributors, Jenkins said he's trying to support local businesses.
"We understand the town and we've paid attention to the town," he said. "We're doing what it takes to make customers happy."
What crepe? offers a wide variety of customizable crepes, including vegetarian, vegan and gluten-free items. Jenkins said he's also diversifying the menu and including items like French toast, quiche, omelets and other options. The average price for a crepe is $10 to $12, but higher-end crepes can reach $14 to $16. (View the menu)
"If you're not in the mood for a crepe, then we've still got you covered," he said.
The most popular crepes, he said, are the mushroom madness, signature rib eye truffle, spicy chicken truffle, chocolate eclair and mixed berry.
Get Ann Arbor news in your inbox
Keep your finger on the pulse of the Ann Arbor business community by signing up for the Business Review newsletter sent out early every Thursday morning. You can also sign up for the daily 3@3 email to see our best local stories every day.
The restaurant will offer French press coffee, espresso drinks, beer and wine. It will be open Tuesday through Sunday from 11 a.m. to 10 p.m. or 11 p.m. Jenkins said he's hired 26 employees for the Ann Arbor restaurant and still has several openings.
As for future expansion plans? Jenkins said his hands are full with three locations, but he's not ruling out more restaurants down the road.
"This is double the size we're used to doing," he said. "I'm going to keep the what crepe? brand between these three for the next couple years."
Lizzy Alfs is a business reporter for AnnArbor.com. Reach her at 734-623-2584 or email her at lizzyalfs@annarbor.com. Follow her on Twitter at http://twitter.com/lizzyalfs.